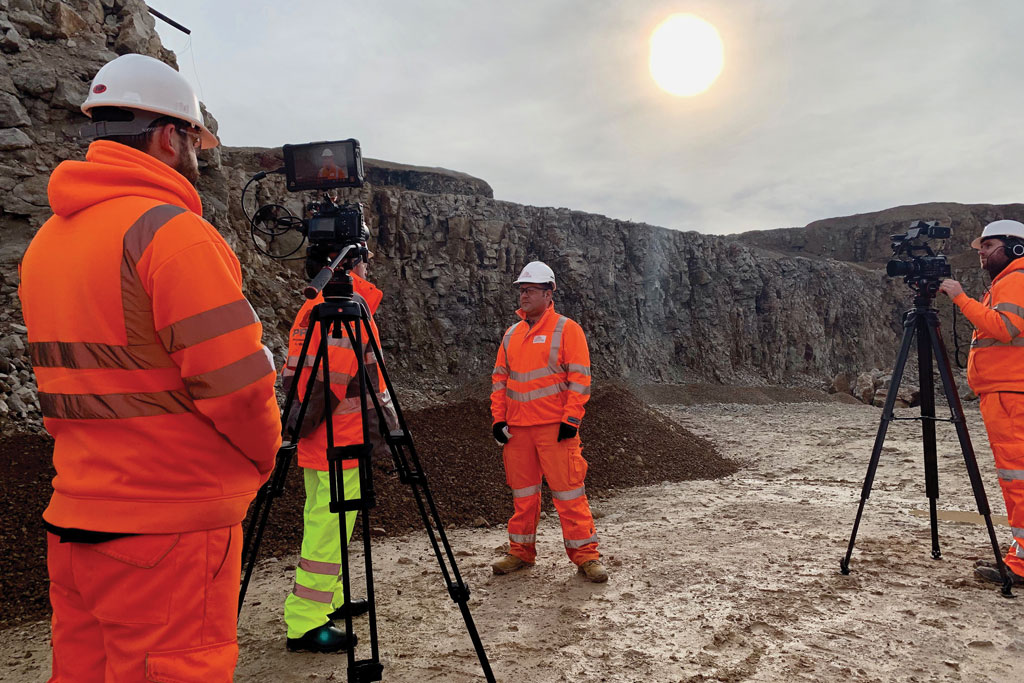 First published in the March 2019 issue of Quarry Management 
There has never been such a focus on driving up standards and professionalism at all levels across the mineral extractives and quarrying sector – from apprentices to chief executives, from multi-site international operators to independent local producers. It is a commercial imperative at a time when standards of health and safety practice are under the spotlight.
In the last issue of Quarry Management, James Thorne, chief executive officer of the Institute of Quarrying (IQ), said: 'Health and Safety is our absolute priority and we are working with our partners to support the industry to continue to create healthy, sustainable workplaces'. True to his word, the Institute has been busy developing a new suite of high-quality member resources and authoritative reference materials. These have been researched and refined in collaboration with key industry influencers, including the Health and Safety Executive, the legal profession, operators and members.
James Thorne says: 'Everyone working within the industry should be aware of the legislation and key documents that underpin the best practices adopted in the workplace. That's what we mean when we talk about Standards and Professionalism. What's great to see first-hand is the appetite for driving up standards and professionalism at all levels, both as a corporate imperative and a personal moral obligation. 
'With the focus in 2018 on health and safety for all the wrong reasons, we have set ourselves the task of reinvigorating and reinforcing messages about health and safety. Our number one priority will always be zero harm, but it's also important that we recognize that delivering a safe place to work has a positive impact on our sector's reputation, as well as increasing productivity and profitability, so it really is in everyone's interest that health and safety is top of the pile of priorities.'
Health & Safety Law in Quarries
The Institute of Quarrying's 'Health and Safety Law in Quarries' – a go-to reference point for anyone working in mineral extractives and quarrying – will relaunch in March 2019, following a comprehensive update. The book was first published in 1991, written by Trevor King, then Senior Inspector of Quarries. The second edition, published in 2002, was rewritten by Eric Darlow, former Professional Head of HM Quarries Inspectorate. Now in its third edition, it has been revised, edited and had new content authored by Alan Millband, partner at legal practice Howes Percival LLP.
He says: 'Circling back to the importance of raising standards and professionalism, high-quality, informed and accurate reference materials are an essential part of anyone's continuing professional development toolkit. Since the 1990s 'Health and Safety Law in Quarries' has been just that for legions of quarrymen and women, providing a teaching reference point on pertinent and relevant legislation. This latest edition brings the book up to date with current legislation, along with new photography and examples of modern court cases.'
Alan specializes in health and safety, environmental and regulatory law. He is also a guest lecturer on health and safety law on the Minerals Management degree course at the University of Derby. The book forms part of a series of text books published by IQ and provides an insight into the equipment and practices found in the aggregate-producing sector of the quarrying industry. 
IQON
Jumping from published word to moving image, a new series of video-based IQ member communications will also launch in March 2019. IQON marks a new chapter for IQ in delivering high-value content for members.
Sarah Fry, IQ's head of membership and marketing, explains: 'We recognize that members have many different pressures on their time, but they still want to access information and industry insights relevant to their career. By developing quality film-based content, they'll be able to access this on demand whenever and wherever they want to. Our aim is to develop four thought-provoking programmes during the year that we hope will inspire feedback and debate.'
IQON is a spin-off out of IQ's successful Lunch and Learn webinar series and will provide a more in-depth approach to key topics aligned to the IQ Skills Wheel. The first broadcast focuses on the Standards and Professionalism segment, specifically health and safety. 
The film features interviews and discussions with a number of industry influencers, including Colin Mew, HM Principal Inspector of Health and Safety with responsibility for the quarrying industry. Joining Colin is Alan Millband, with questions posed by Gordon Dick FIQ, owner of Rock and Road Training. Viv Russell, group managing director of Longcliffe Group Ltd, provides an operator perspective from Tarmac's Ballidon Quarry, in Derbyshire, where he is joined by IQ's James Thorne.
Gordon Dick says: 'Bringing together such a wealth of health and safety knowledge in one place is very powerful. This film looks at health and safety from the professional perspective of each interviewee, providing members with a 360° insight into the thoughts, considerations and implications of best practice set against the frameworks of the Health and Safety Executive, the law and extraction operations. It's compelling viewing and cements what we all aspire to – which is everyone home safely at the end of every day.'
Colin Mew adds: 'These kinds of innovative member communications are absolutely essential. They are what organizations such as the Institute of Quarrying exist for and exactly what you'd expect from a professional membership organization. They're about raising standards of professionalism by providing high-quality documents and communications that have been reviewed by industry experts as reference material for members.' 
The 45-minute long IQON broadcast will first air on IQ's exclusive member-only Vimeo and YouTube channels during March 2019. Sound bites of the interviews will also be shared on IQ's LinkedIn, Facebook and Twitter social media channels. For further information visit: www.quarrying.org