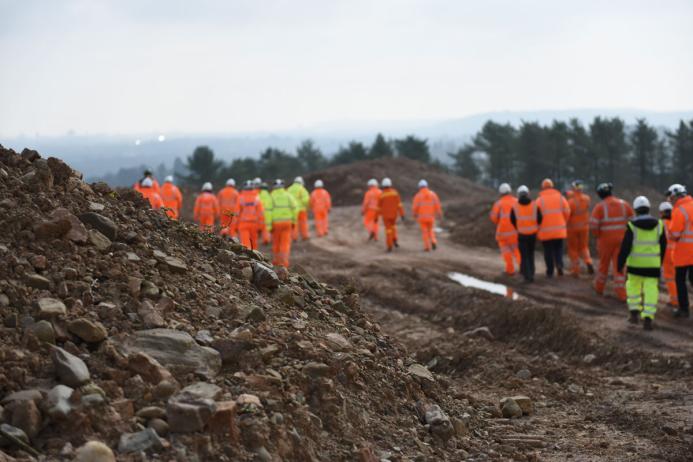 First published in the April 2022 issue of Quarry Management 
IQ's role in raising the industry's profile and ensuring that the career pathways available are supported with respected and relevant qualifications
Quarrying, like many mature manufacturing sectors in the UK, faces a multitude of employee retention and recruitment challenges. Ageing, yet highly skilled workforces are often being replaced with younger, but less experienced personnel. Operators are continually searching for talent in an ever more competitive recruitment market. So, how does an industry like ours work together to provide good outreach programmes that will inspire the next quarrying generation? 
Those already working in quarrying understand that our industry offers a wide range of opportunities for anyone thinking about future career options. It is now the largest manufacturing sector in the UK, thanks to the number of critical industries to which we supply our products. The mineral products sector employs more than 80,000 people in the UK alone, producing 400 million tonnes of materials each year and generating £5.8 billion additional value for the economy.
The Institute of Quarrying (IQ) is campaigning alongside operators and other industry bodies to promote the diverse range of careers the industry offers. There is so much potential, with many individuals starting at entry level and progressing up the career ladder to responsible roles managing people and processes, including senior management and executive positions.
Future-proofing the sector's ageing workforce and increasing educational pathways are high on the IQ's agenda.
IQ chief executive officer James Thorne explains: 'We are proud to be part of a cross-sector collaboration that is helping to future-proof the industry. Through strong partnerships with trade associations and operators, including Wainwrights, Tarmac, Hanson, Mineral Products Association, Mineral Products Qualifications Council, and British Aggregates Association, we are working in unity and raising awareness of the many career pathways available in quarrying.
'As the professional body for the mineral products and extractives industry, IQ has an important role in raising the industry's profile and ensuring that the career pathways available are supported with respected and relevant qualifications.'
Spotlight on National Careers Week
National Careers Week took place last month. It is an established campaign to assist young people in making informed choices about their next steps by providing access to the best career advice and information possible. IQ worked with its industry partners to highlight the range of job roles available and the different routes into the industry.
Sarah Fry, IQ's head of membership and marketing, says: 'The campaign's underlying message to young people is that there are so many job roles across operations, logistics, engineering, environment, and corporate functions that there is something for everyone. The routes into the sector are equally varied, with opportunities for school and college leavers, university undergraduates, and those with experience in other sectors.
'As part of the campaign, case studies and profiles of different people in different stages of their careers were included to demonstrate this diversity. These IQ members were all pleased to get involved.'
The following profiles explore some of the different career paths and entry points for a cross-section of people working in the sector.
Deborah Thomas MIQ 
Principal hydrogeologist, Envireau Water
Deborah joined the industry eight years ago. Initially inspired by her father's role in the sector, under his supervision she visited quarrying environments and weighbridges before finally joining the industry as a hydrogeologist. Her original role involved collecting groundwater data, including analysing water levels and water quality. These data are collected to create detailed water models over time. A benefit of collecting water data is that hydrogeologists can aid decisions when planning for or responding to an environmental crisis.
As principal hydrogeologist, Deborah still occasionally gets out on site to collect monitoring and sampling data. However, she is now more frequently involved in face-to-face meetings with quarry managers to support decision-making opportunities focusing on water-related problems.
Nicholas Jewell TMIQ 
Production supervisor, Hanson
Nicholas began his career in quarrying by chance. It was during a visit to a local quarry that he discovered a sector full of opportunities. He joined Hanson as a mobile plant operator, a role which involved working with plant equipment, including dumpers, excavators, telehandlers, loading shovels, and dozers.
Nicholas has now been employed within the industry for more than seven years and currently works as a production supervisor at Hanson. He explains: 'My role involves ordering machinery parts and ensuring enough resources are available on site. I also undertake regular quarry inspections as part of my role. I have a range of responsibilities in supporting my colleagues, manager, and quarry foreman. I plan each working day based on the previous day's business achievements and the quarry's operating plans.' 
Viv Russell FIQ 
Managing director, Longcliffe Group 
Viv first considered the quarrying industry as a potential career as a young man. His career now spans over four decades, with experience in many businesses across a range of dynamic job roles.
Now chair of IQ, Viv's career in quarrying has provided him with continued progression, education, and an excellent living. He explains: 'Working in the industry has given me the chance to travel the world whilst earning and learning. What I enjoy the most about the industry is the relationships I've built. Regarding aspirations, I believe most of them have already been met and surpassed.'
He adds: 'My advice for anyone considering a role within the industry is to find out more about how you can get involved. With many entry-level positions now available, stepping into quarrying has never been easier. The industry offers essential career-building opportunities, including general management training and experience, leading to exciting opportunities like travelling the world with your professional network.'
Sarah Fry concluded: 'The industry creates its ambassadors through the professionalism, pride, and passion of the people that work within it. Bringing these stories to life will help show the next generation the value and rewards of working in the quarrying and mineral products sector.
'Anyone who wants to help and support the industry effort in promoting careers can visit www.quarrying.org/ncw-2022, where all the resources created for National Careers Week are hosted and can be shared.'