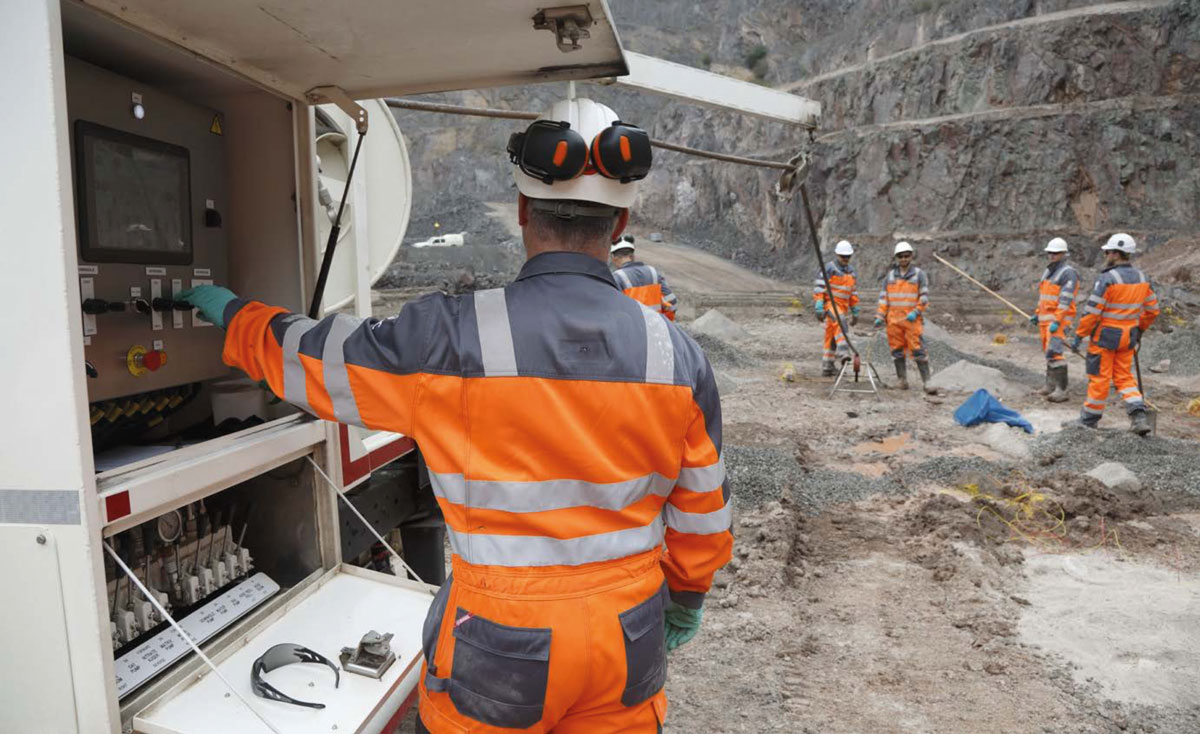 First published in the December 2022 issue of Quarry Management as Leaner = Greener
EPC-UK draw on their established SPIRIT values to achieve their goals
As the drilling and blasting sector increasingly prioritizes the implementation of strategies to navigate the road to Net Zero, industry specialists EPC-UK are drawing on their established SPIRIT values of Safety, Passion, Integrity, Respect, Innovation, and Teamwork to achieve their goals – working with Net Zero partners McGrady Clarke and improving processes across the value stream using the digitalized capabilities of their Project Bravo venture.
Planning in partnership
EPC-UK have chosen to work with specialist consultancy McGrady Clarke on a multi-year framework strategy to become a more sustainable business and a Net Zero leader within the sector.
Together, the companies are reviewing legislative compliance and Streamlined Energy and Carbon Reporting (SECR). They are carrying out a full Scope 1, 2 and 3 carbon footprint evaluation to create a baseline for EPC-UK's 2021 carbon consumption figures. By analysing data-capture methods, employing recommended improvements, and developing a carbon-reduction plan that is applicable to all EPC-UK's operating sites and activities, the impact of changes made will be effectively quantifiable.
'EPC-UK are a truly diverse company,' explained McGrady Clarke director Theodore Clarke. 'They comprise blasting services, civil engineering, chemicals, energetics and logistics divisions, which means multiple supply chains and downstream operations are involved in their business. This makes capturing data in a quality manner key to achieving a successful carbon audit process, effective recommendations for progress, and the ongoing development of the company's carbon-reduction plan.
'Working to their SPIRIT values, EPC-UK are demonstrating a clear ambition to become a more sustainable business for the future as they navigate a route that only involves credible and quality means of data capture. We're pleased to be working with such a committed and passionate company and look forward to supporting the delivery of its Net Zero plan.'
Progressing Net Zero 'in the field'
As EPC-UK develop their strategy to reach net-zero carbon as a business, they draw on the lean manufacturing principles their digitized technology has been enabling for some time. With regard to the company's drilling and blasting division, its 'Project Bravo' venture – steered by Ben Coppock, general manager of blasting and explosives – has placed EPC-UK a step ahead strategically, in terms of maximizing 'value-adding activities' and minimizing 'non-value-adding activities', to eliminate waste in their production processes.
'Our strategies to achieve Net Zero as an entire company across all divisions are being put in place, with actions implemented where applicable,' explained Mr Coppock. 'On the quarry top, the flow of resources and information, and opportunities for improvement, are already being identified, analysed, and delivered, and data are, even now, being managed and exploited to reduce emissions and realize value and efficiencies in the services EPC-UK provide to customers, further increasing engagement with stakeholders.'
A digital future
'EPC-UK's Vertex technologies are playing a critical role within this development,' continued Mr Coppock. 'Vertex is our groundbreaking drilling and blasting software package, developed to combine all three of EPC-UK's digitized operating platforms – Expertir, Expertab, and ExplOre. Through our two-phase 'Project Bravo' programme, we are already succeeding in driving down emissions and addressing the vital steps that must be taken to reduce both our own and our customers' carbon footprints, whilst also using the data to achieve desired production results.'
Project Bravo
Phase 1
Phase 1 revolves around combining digital blasting practices with data capture to support consistent performance monitoring across EPC-UK's operations and specific key-benefit-sharing projects. By developing existing digital systems collaboratively with customers, EPC-UK are able to test their process-to-live tracking using the 'ExplOre' element of Vertex to monitor performance. ExplOre allows all of the drill and blast KPI data to be analysed together within an online cloud-based database. The digital solution equips engineers to make effective decisions regarding future blast designs and blast parameter changes to improve fragmentation and efficiencies, reduce emissions, and deliver a true 'mine-to-mill' understanding.
By using the technology, EPC-UK can effectively differentiate their services, which in turn generates greater value from their engineering capabilities and, consequently, a leaner, greener commercial model that focuses on maximizing value-adding activities and reducing carbon.
Phase 2
Project Bravo Phase 2 centres on a co-ordinated approach across EPC-UK's explosives and services business to optimize forward planning, production, and stocking processes – taking account of lean methodologies and using technology to optimize throughput, better manage ordering, schedule delivery and demand, and develop a verified and recordable carbon-reduction plan.
This approach makes it possible for the team to plan in advance and effectively manage both resources and stock through effective data capture and communications. Given the nature of the business – which provides services to a market with a high level of fluctuating demand via capital intensive assets – effective forward planning and levelling of demand have been long-standing challenges. These advanced data-capture systems, underpinned by a leaner, greener mindset, have provided real opportunities to monitor carbon emissions and optimize customer service.
Planning is paramount
This strategy is allowing EPC-UK to share the benefits of more efficient operations with customers and increase the average blast size delivered to them by more than 30% in the last five years. The effective forward planning involved has made considerable energy-efficiency differences too. For example, bigger blast sizes have resulted in fewer drill rig moves and, consequently, less time wasted with drilling assets retained on the back of low-loaders. The number of movements for operators who use the same number of site visits to deliver a larger blast quantity have also reduced, which, in turn, improves the utilization of the trucks – a virtuous circle.
The road ahead
'Our ongoing working partnership with McGrady Clarke will ensure that we are effectively guided, using credible data, to advance our route to Net Zero without compromise,' said EPC-UK's managing director, Ben Williams. 'Supported by our digitalized capabilities – evident within ventures such as Project Bravo – and a passionate team that works with respect and integrity to ensure goals are met and safety prioritized, we are equipped to systematically decarbonize our own business for Scope 1 and 2, with the capabilities to meet critical Scope 3 challenges – once again allowing EPC-UK to perform as an industry leader with the desire to make a difference.'