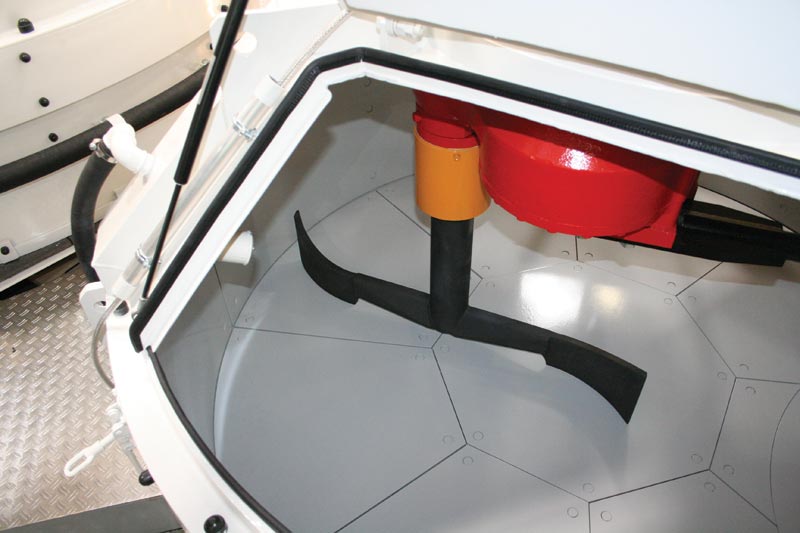 First published in the December 2013 issue of Quarry Management as A Revolution in Mixing
Teka introduce THT series mixers with patented MixTurbine mixing tool
Teka have been at the forefront of mixer design for the last five decades. Their development team have introduced many innovations which have gone on to shape the way that concrete is mixed in UK, and it looks like they may have done it again with the launch of the THT series.
Embodying the ethos of modern concrete production – quality, flexibility and energy efficiency, Teka THT series mixers are said to excel in delivering the high-quality specialist concretes that are vital for today's added-value concrete products sector, as well as allowing greater flexibility in production schedules.
Key to the THT's success is an innovative and patented mixing tool. According to Teka, the mixing action has been revolutionized and results in the next level of performance.
World first mixing tool
THT mixers have a completely different mixing action to conventional mixers. The world-first, patent pending MixTurbine mixing tool combines two sweeping arms which generate a new 'swing and throw effect' developed to blend materials more effectively.
The MixTurbine harnesses centrifugal force to maximum effect, with the shape of the tool causing raw material to naturally accelerate across the face of the mixing arm as it rotates, powerfully sweeping the mix from one side of the pan to the other. Every full cycle of the MixTurbine around the pan causes maximum movement. This constant 'throwing' action, which is not generated by normal mixing blades, produces a highly intensive mixing effect.
While traditional blades tend to mix in a localized zone, MixTurbine sweeping arms have a larger surface area and are in contact with far more of the mix at any one time, thereby blending a higher proportion of raw material with each rotation. The effect is to achieve homogeneity more quickly, potentially achieving higher productivity.
Tests using Hydronix moisture probes have shown that excellent moisture distribution takes place quickly and efficiently throughout the mix in minimum time to bring better control to the mixing process.
Moreover, the sweeping action of the MixTurbine is highly effective at pushing the mixed material out of the discharge door. Discharge times of 10–15s have been recorded, which represents a dramatic reduction, again increasing productivity.
Mixing flexibility
With concrete producers increasingly having to produce a diverse range of very different and challenging mix designs in quick succession, low contamination, rapid cleaning and the ability to mix small batches give the flexibility to respond to demand efficiently. THT mixers are supplied with a frequency converter as standard, which allows rotational speed to be matched to specific mix designs and mixing cycles for fully flexible production, whatever the mix.
The low-profile MixTurbine sweeping arms remain effective when mixing small batches (down to 15% of the theoretical batch size without compromising mix quality). Unlike other mixer designs, the blades operate at floor level and do not lift the mix; all mixing is done at ground level. Mix on the pan floor is swept across the pan, creating an empty space behind the MixTurbine arm which is immediately filled as the upper layer of mix falls into the space left behind, using gravity to achieve the much sought after dual-layer mixing effect. This plays a key role in minimizing balling.
More intensive mixing actions have, in the past, tended to disperse raw materials aggressively, using high a shear action. THT mixers use a different mixing principle which is far gentler and does not alter the characteristics of more friable, softer raw materials, whilst still blending them very intensively.
In addition, fewer mixing tools and MixTurbine's sleek profile without flat surfaces for build-up to accumulate on, mean that THT mixers are quick and simple to clean, and allow mixer wash-out systems, such as the market-leading Walter wash-out system, to operate even more effectively.
Shorter mix times, a gentler mixing action controlled throughout by the frequency converter, and fewer mixing tools causing resistance, lead to the possibility of lower power consumption. Moreover, the simplicity of the MixTurbine means maintenance requirements are permanently reduced, with downtime and ongoing spare parts costs kept to a minimum.
Application-specific designs
Another piece of radical thinking is demonstrated by the fact that THT mixers are not available in a standard range. No two high-performance concrete applications are the same, so mixers which reflect those differences are more likely to achieve optimum performance. Teka recognized the need to tailor their THT mixers to suit each individual application. The three key elements of each mixer that are variable are: the gearbox and motor drive system; the number of MixTurbines; and the pan diameter.
The new mixing action performs effectively with even the most challenging mix designs. THT mixers have undergone rigorous testing at the Institute of Building Process and Environmental Technology at the University of Trier, where, under the leadership of Prof. Beitzel, the manufacture of steel fibre-reinforced concrete (SFC), self-compacting high-performance concrete (SCC), self-compacting lightweight concrete (SCLC) and ultra-high-performance concrete (UHPC) was assessed. The homogeneity of the mixture was categorized on the basis of DIN 459-2 (Building material machines – Mixers for concrete and mortar - Part2: Procedure for the examination of the mixing efficiency of concrete mixers) and in accordance with the RILEM Final Report TC 150-ECM (Efficiency of Concrete Mixers – Assessment and Classification of Performance Mixers) with outstanding results.
Proven performance
Teka have supplied 10 THT mixers to leading concrete producers and refractory manufacturers. All have reported outstanding performance and several of these clients subsequently ordered further THT mixers once the benefits became clear.
For further information visit: www.conspare.com