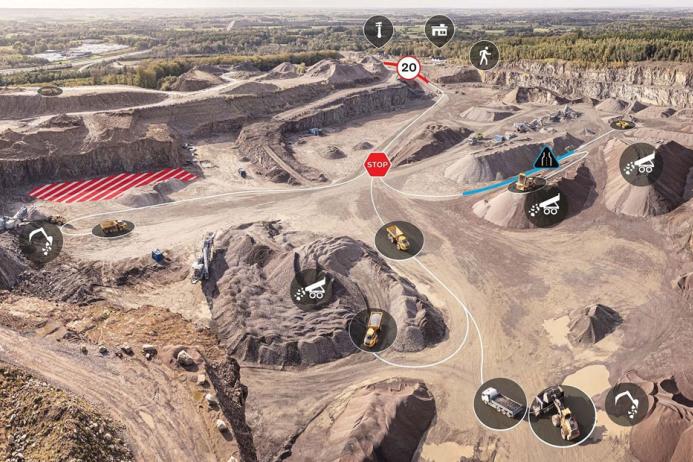 First published in the March 2023 issue of Quarry Management 
Volvo Construction Equipment aim to take the strain out of managing busy quarry sites with Connected Map and Task Manager solutions 
Last year Volvo Construction Equipment unveiled their Connected Map solution, a positioning service which provides a visualized site overview for all machines – including non-Volvo equipment – and vehicles on a site, accessible by personnel in the machines (via Volvo Co-Pilot or Android/iOS device) and in the office (via the Office Portal web platform).
Azadeh Fazl Mashhadi, service offer owner - site solutions at Volvo CE, explained: 'With Connected Map, users benefit from complete job site visibility. It gives them a visual overview, in real time, of the position of every machine, every vehicle, and every visitor on a site connected to the app, helping to make their operation more efficient and more productive. The site management also have total job site visibility via the Office Portal, providing, at their fingertips, all the information they need to optimize traffic conditions for maximum productivity. Moreover, increasing the efficiency of transport operations can help to cut travel times, minimize material mixing, reduce fuel consumption, and cut emissions.'
Connected Map works by extracting the positioning data from machine telematics or Android/iOS devices with SIM cards and uploading them to a cloud-based Volvo platform. Whether a Volvo or non-Volvo machine, vehicle or temporary site visitor, Connected Map will visualize the position of any unit on site which has the app installed – either in the Volvo Co-Pilot or in an Android/iOS device.
For non-Volvo machines which are regularly on site, Volvo recommend fitting the machine with a generic/non-Volvo Co-Pilot with Map app. This can be purchased as an aftermarket option through Volvo dealers or, alternatively, non-Volvo machine operators can gain access in the Site Map app via any Android/iOS device with a SIM card. Temporary site visitors can also access the app in the same way, allowing easy site familiarization.
Connected Map will visualize a host of typical job site features and landmarks, including roads to assist operators in navigating around the site, load zones, dump zones, speed zones, as well as restricted zones. Points of interest such as offices, workshops, and fuel stations can also be visualized, which is especially helpful for new or temporary operators. Single-lane (narrow road) sections can be defined, notifying the operator if another machine is approaching within a single-lane section, helping to avoid traffic congestion.
For site managers, the Office Portal makes it easier to manage larger sites and even creates the possibility of managing multiple sites simultaneously. Not only does Office Portal provide a visual overview of all machines, operators, and temporary visitors on site, it also allows the site manager to react to the prevailing site conditions. The manager can introduce measures such as one-way traffic or restricted zones and communicate these changes to all users in an instant, helping to improve awareness, reduce accidents, and increase productivity.
Connected Map users can also stay 'in the know' when it comes to the whereabouts of their machines, thanks to the search functionality within Connected Map, which will look-up and find users or machines in real time, with the last machine position visible for 30 days. Away from the office, Connected Map makes it easier for the operator to become more familiar with the site and know where everyone is, including visitors, helping to facilitate a more straightforward, safer, and less stressful operation.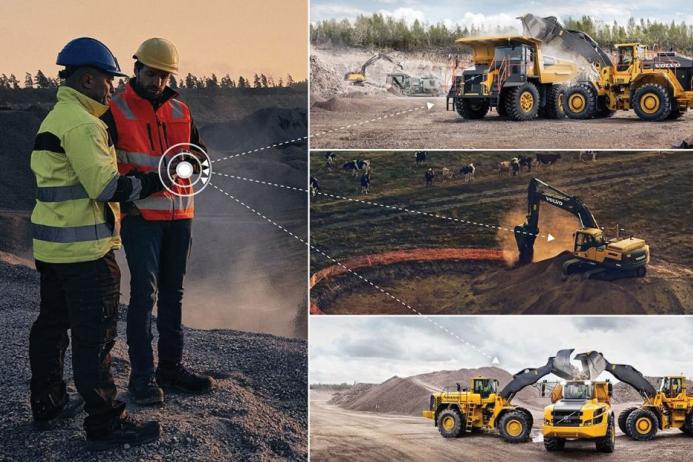 Keeping projects on track
Managing a busy worksite can be time consuming and challenging, with many different and interdependent tasks and with numerous contractors, sub-contractors, areas of the site and machines at play. Volvo Construction Equipment (Volvo CE) aim to make it easier to connect all the pieces of the puzzle with the recent launch of their new digital solution, Task Manager. An easy-to-use web application, Task Manager is a worksite-management tool that connects people, machines and projects, providing real-time visibility of the many tasks taking place on a busy site and helping ensure activities are delivered on target, on time and to budget.
Robert Nilsson, service offer owner at Volvo CE, said: 'We understand the challenges facing our customers in creating an accurate project timeline. Task Manager was developed with this in mind and with the objective being to take the strain out of worksite management. By making it easy to see the status, in real time, of the many activities on site either from your mobile or desktop, Task Manager helps everyone stay on track – whatever the brand.'
With Task Manager, information on project status is instantly available anywhere, whether on site, in the office or at home, helping users to stay apprised of developments and ensuring sites are as productive and efficient as possible. Once installed, new projects and work orders can easily be set up as required. Task Manager makes it possible to set targets and monitor progress, track material moved on site and manage data from a mixed fleet. With all relevant information in one place, time spent on administrative tasks, such as collating and consolidating data, is reduced, leaving users more time to focus on the business in hand.
Volvo CE say Task Manager is suitable for everyone from production managers and site supervisors to sub-contractors, all of whom play a vital role in keeping projects on target. Data can be filtered by different time frames, projects, activities, materials or work orders, providing updates in real time and facilitating status update reports to management. The system also works hand in hand with the on-board weighing (OBW) functionality of Load Assist and Dig Assist, with load receipts set up to automatically flow from the Volvo Co-Pilot into Task Manager. For customers without Load Assist or Dig Assist OBW, the operator can easily create manual load receipts. Task Manager is available as a monthly subscription through local Volvo dealers.