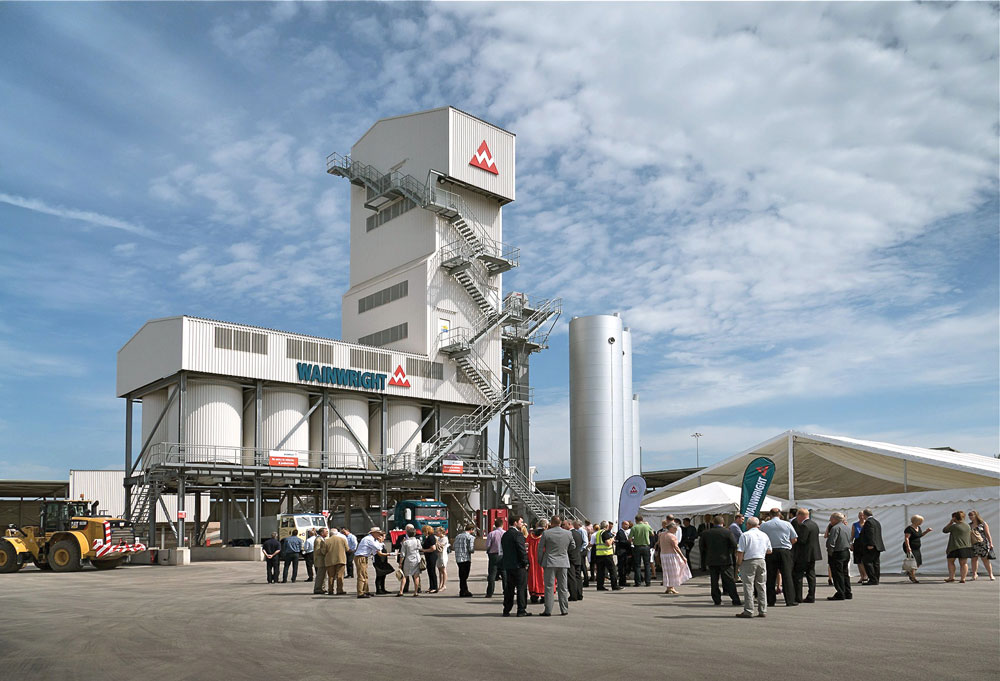 First published in the January 2017 issue of Quarry Management as At the Forefront of Sustainability
Wainwright extend their reach with opening of state-of-the-art KVM asphalt plant in Avonmouth  
John Wainwright & Co Ltd have extended their supply capacity and reach across the South West with the opening of a new £9 million, state-of-the-art asphalt plant in Avonmouth, Bristol. Construction of the
4.5-acre site was completed in April 2016 and the plant was officially opened at the end of August.
'This is a significant moment for Wainwright,' said business development manager Simon Lumkin, who oversaw the Avonmouth project. 'It's the company's first investment away from its base in the Mendips and opens up a much wider geographic area to trade in. The plant itself employs a state-of-the-art design from KVM to enhance efficiency and improve sustainability. Overall, this is one of the best asphalt plants in the country.'
The KVM Freja 4000H/250-10-318 hybrid asphalt plant at the heart of the new site has a production capacity of 240 tonnes/h and storage for 600 tonnes in ten 60-tonne silos. Offering a full suite of asphalt products, including red asphalt, PMB asphalt and pre-coated chippings, the plant is said to be one of the most advanced in the UK and features a range of environmental and technological benefits that place it at the forefront of sustainability.
For example, raw materials are stored in covered bays with sloping bases, which keeps them drier and means less energy is expended preparing them for asphalt production. A 1% reduction in moisture content can reduce energy consumption by as much as 800kWh per 100 tonnes of aggregate.
Also, thanks to intelligent site design, the distance travelled by the loading shovel is minimized, increasing fuel efficiency and saving valuable energy.
Within the plant itself, four temperature probes are situated along the length of the drying barrel. By close monitoring, Wainwright can modulate the gas-fired burner and the speed at which the barrel rotates, thereby ensuring the most energy-efficient operation. In addition, the gas grid uses locally sourced bio-methane from the nearby Wessex Water sewage treatment facility, which, allied with the burner/dryer modulation, saves up to 400,000kg of CO2 emissions per annum.
The site also benefits from a 215kWp solar photovoltaic roof panel installation, which reduces grid electricity consumption by up to 30% during peak production, and up to 100% when energy use is low, yielding annual savings of 185,000kWh and 74,000kg of CO2 emissions.
An integrated recycling facility means the plant can accept two different grades of recycled asphalt planings (RAP), which can be added at up to 25% of the raw feed, although 20% is typical. At this level, Wainwright say they will save around 331,200kg of CO2 emissions each year.
Thanks to KVM's special steam-evacuation column, residues are returned to the production process, thereby eliminating waste.
Soft-start high-efficiency motors also help keep energy consumption to a minimum. Moreover, the plant is extensively lagged to retain heat, uses LED lighting throughout and harvests rainwater for both site and equipment cleaning purposes.
Finally, the weigh gear features integral check weights to ensure that recipe weights are measured from a zero tare. This enhances accuracy, and minimizes waste.
Thanks to all these measures, Wainwright estimate that annual savings on CO2 emissions will amount to at least 805 tonnes, representing a significant gain for the environment and ensuring that the company operates at the highest levels of efficiency and sustainability.
Peter Barkwill, chief executive of John Wainwright & Co. Ltd, said: 'This new facility is a bold move for our 125-year-old quarrying company but we believe now is the right time to invest and build on our reputation for quality, service and efficiency. It is by far the largest single investment we have made in the company and heralds a new era of growth and enterprise for our business.'
He continued: 'The site is ideally located within one mile of the South West motorway network giving us access to a range of additional markets throughout the region. We are particularly pleased with the sustainable aspects of its design, which dovetail with its location on the edge of Bristol − which was the first UK city to achieve European Green Capital status.' 
For further information visit: www.kvm.com