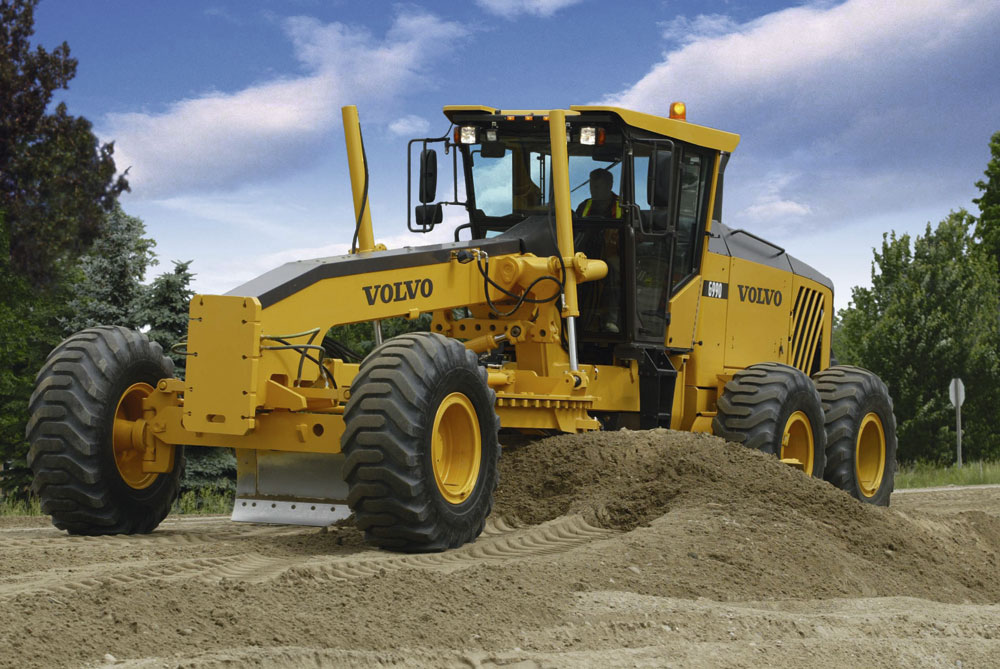 Volvo introduce their brand-new G900 range of motor graders

Volvo adopted a 'clean sheet' approach when designing their new G900 seven-model range of motor graders. Built on two distinct but integrated platforms, and fitted with either a D7 or a D9 Volvo engine, the range combines the attributes of productivity, operator friendliness, reliability and ease of service and includes two all-wheel-drive (AWD) machines.

The seven models in the range comprise: G930, G940, G946, G960, G970, G976 and G990. The first four models are fitted with the 7.2-litre D7 engine, while the larger three utilize the 9.4-litre D9 engine.

Through an extensive 'Voice of the Customer' programme, Volvo integrated into the design the requirements of motor grader customers and users worldwide. Each model features EU Stage IIIA and US Tier III-compliant engines utilizing Volvo Advanced Combustion Technology (V-ACT) to run cleanly and without the extra service requirements of additional equipment or the after-treatment of exhaust gases. All seven models have three power ranges, depending on the transmission gear selected. This feature optimizes engine performance and enhances overall fuel efficiency by matching engine power to the application.

Wide-stance blade-lift cylinders coupled with a low-angle side-shift cylinder provide a stable grading platform. Proportional Demand Flow (PDF) intelligent load-sensing hydraulics and a powerful twin-gear, direct-drive turning-circle system provide high strength to hold or turn the moldboard smoothly while moving under full load. This accuracy of control and performance is said to result in more 'one-pass' finishes.

The G900s use Volvo's HTE840 transmission that features selectable manual, autoshift (optional) and travel modes. With autoshift the operator selects the target gear and the transmission shifts automatically through turns and grades as required. Its shuttle-shift feature aids quick and simple duty cycles by allowing shuttling between selected forward and reverse gears in a single smooth motion without clutching or pausing, greatly reducing operator fatigue. Autoshift is standard on the Volvo-exclusive HTE1160 transmission, an 11-speed grader drive train. With 11 forward and six reverse speeds, the optional HTE1160 transmission allows more control at low speeds, more efficient travel at high speeds and more precision in normal working speeds.

The robotically welded frame helps ensure structural rigidity while the full perimeter rear frame design protects the power train from load stresses created by side and rear attachments, such as rippers. The structural design of the grader is focused on placing its power and weight to maximize blade downforce and drawbar pull rates. Volvo APR70 and APR90 planetary reduction rear axles reduce loading on tandem chains and deliver power and traction to the ground. To match grader performance with tractive conditions, an operator can lock or unlock the rear axle differential by simply flicking a switch.

The front axle has a high centre ground clearance and a sharp steering angle. To minimize maintenance there is no need for daily greasing or weekly servicing and there is an optional 500h engine oil change interval. The Contronics electronic monitoring system has been expanded in the G900 family, allowing 25 grader functions to be analysed.

The two AWD models offer three distinct features in their drive systems. The six-wheel-drive combines with a four-wheel tandem drive and a 'front-wheels-only' creep mode that is suitable for precise fine-grade applications. There are 16 selectable levels of aggression to match AWD performance to the application.

ROPS/FOPS certified, the G900-series cab features large glazed areas that allow forward, rear and downward views — aided by six optimally placed interior and exterior mirrors. The steps and handholds are illuminated automatically for safer entry and exit when the cab door is opened. The low-noise, low-vibration cab is pressurized and has two large-capacity filters to maintain a constant flow of clean air. All essential controls are mounted on a slide and tilt adjustable centre pedestal. Low-effort pedals and short-throw levels help reduce operator fatigue. Coat hooks, storage areas and mounting brackets for communication equipment are also fitted.