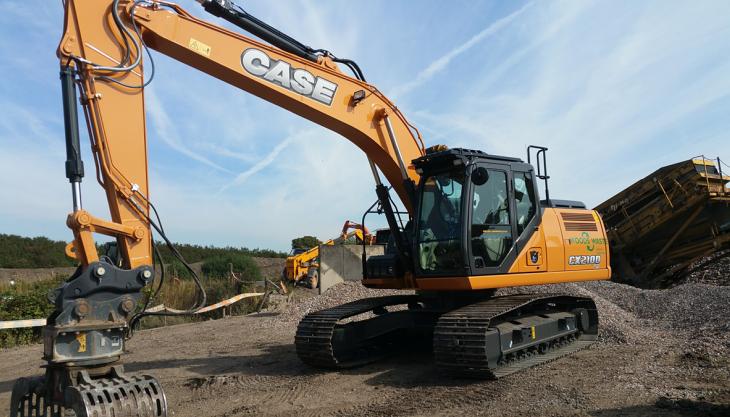 CASE equipment helps recycling firm achieve production and sustainability goals
BLACKPOOL-based The Woods Waste Group are using a fleet of CASE mobile plant to help recycle 85% of the material that enters their yard. The machines – which include a CX210D excavator, a CX250D unit and a 1150 dozer – are moving waste materials that are crushed, washed and reprocessed into saleable products, including washed stone and topsoil.
'We chose CASE machines because they deliver an unrivalled level of efficiency and reliability,' said Andrew Rayner-Porter, site manager for The Woods Waste Group. 'Very rarely do any of our fleet of five machines require repairs or spare parts, and on the off chance they do, the service we receive is excellent. We routinely collect parts out of normal office hours and any parts not in stock arrive within 24 hours.
'Having this availability ensures that we are able to process and recycle the huge volumes of waste we receive, as well as maximize the multi-million-pound upgrades we have made to our facility.'
According to The Woods Waste Group, the company operates the only washing and gravity separation system in the local area; producing a broad range of recycled aggregates for customers across the country.
'Our relationship with Dennis Barnfield Ltd, our local CASE dealer, has also underpinned the success we've had with CASE machines,' continued Mr Rayner-Porter. 'The team offers personalized support and the dealership is only an hour drive away, meaning service engineers are always there when we need them. As such, we can achieve maximum uptime from all our CASE equipment.'
Anthony Bouvié, CASE Construction Equipment's business director for Northern Europe, commented: 'Recycling is a key application for CASE machines. It is reflective of the sustainability goals that are in place across the wider CNH Industrial Group, as we all look to reduce our environmental impact. We are delighted that both The Woods Waste Group and Dennis Barnfield Ltd. are playing their part in this.'