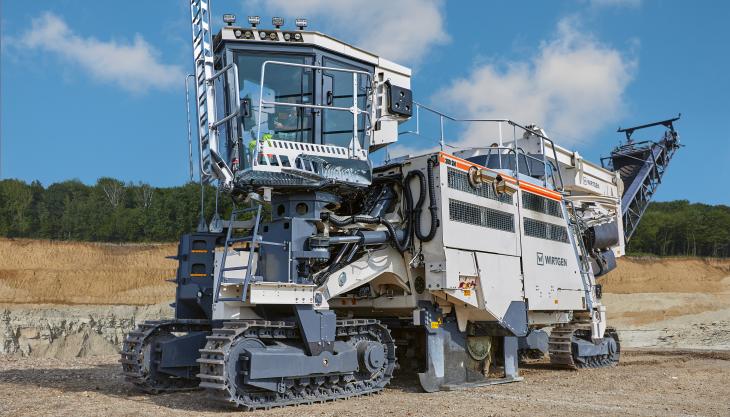 New 120-tonne class machine offers safe, efficient extraction of primary resources in single operation
WITH their new 280 SM(i) surface miner, Wirtgen say they have developed another safe, environmentally friendly, and efficient solution for the extraction of primary resources in the 120-tonne class.
Featuring innovative technologies that allow high machine utilization rates and maximum productivity, the 280 SM(i) is a high-performance surface miner designed for the reliable and selective extraction of primary resources by direct loading, side-casting, or cut-to-ground. Raw materials are extracted and crushed in situ in a single operation – without drilling and blasting, and with minimal environmental impact.
The 280 SM(i) is driven by four steerable and height-adjustable crawler units. The machine is highly manoeuvrable and can be quickly turned at the end of a cut. The LEVEL PRO ACTIVE automatic levelling system maintains the specified cutting depth with consistently high precision and without further aids.
Suitable for all rock hardnesses, the 2,750mm cutting drum unit with a cutting depth of up to 650mm is precisely adaptable to each specific application and is said to achieve outstanding cutting performance with minimal pick wear. Wear-resistant toolholder systems ensure optimal pick utilization and minimal downtime.
The soft rock cutting drum unit is designed especially for high material flows in soft rocks, whilst the hard rock cutting drum unit ensures maximum durability and long life in hard rocks.
In the extraction of primary resources by opencast methods, the key priority is always a combination of the highest possible productivity, maximum purity of the material extracted, and minimal impact on people and the environment.
Aside from performance, the productivity of surface mining equipment depends primarily on constant operational readiness and optimum machine utilization. The innovative operator's cabin contributes to the operator's ability to exploit the full potential of the machine and maximize productivity.
The high-performance, hydraulically height-adjustable rear discharge conveyor with a movable counterweight can be slewed to the right and left by 90° and allows the loading of dumptrucks with payloads of up to 100 tonnes. Moreover, the operator can continuously vary the speed of the belt independent of the engine speed to reduce belt wear, dependent on the material volume and the size of the mined material.
According to Wirtgen, entirely new standards are set by the dust-sealed and air-conditioned positive-pressure cabin with fresh-air filtration, which effectively prevents the ingress of dust into the operator's workplace.
Mounted on the front left chassis column, the operator's cabin with all-round glazing is decoupled from the machine body and can be rotated by 90° in both directions. Up to six cameras can also be installed to provide even better all-round vision. Various automatic functions also contribute to the operator's comfort, reducing the risk of fatigue, assisting the operator in achieving high productivity rates, and making the overall process more efficient.