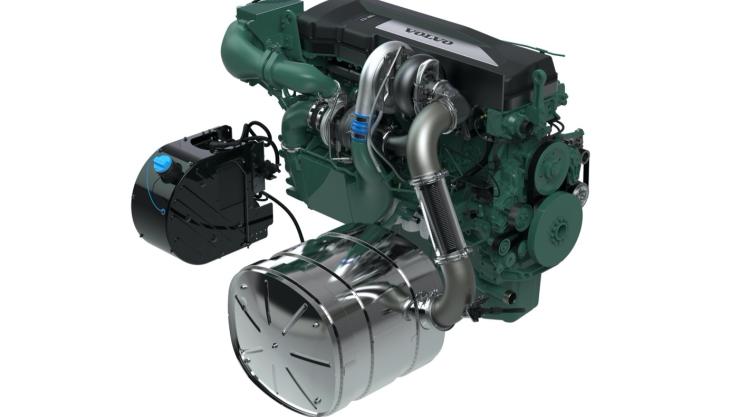 Stage V/Tier 4F D16 off-road engine receives 'Engine of the Year' Award at 2021 Diesel Progress Summit
VOLVO Penta's most powerful and versatile engine to date – the 16-litre, Stage V/Tier 4F-certified D16 off-road engine – has been awarded a Diesel Progress Summit (DPS) award in the 'Engine of the Year' category (over 175hp), for its enhanced fuel efficiency, reduced carbon emissions and impressive low- to high-end torque.
Held in Rosemont, Illinois, in the US, the awards celebrate excellence and achievement in the field of engine and powertrain technologies. The DPS judging panel based their decision on key factors, including productivity, fuel efficiency, improved emission reduction, dealer/service support, and they were clearly impressed by Volvo Penta's D16 engine.
'We have worked in close collaboration with our customers to test this engine in the most demanding conditions and applications to guarantee that we deliver a product fit for purpose,' said Giorgio Paris, president of industrial at Volvo Penta.
'It's an honour to receive the Engine of the Year Award at the Diesel Progress Summit. It is a great testament to the work we have put into developing this engine; and we hope this formal recognition, from a reputable panel of industry experts, reinforces to our customers that they have made the right choice.'
With fuel being a major expense to any operator, especially in the current economic climate, the low-end torque capabilities of the D16 engine customers can help them achieve major decreases in their fuel consumption.
Based on proven technologies that have undergone millions of hours of testing, Volvo Penta say the D16's versatile performance delivery, response and highly efficient combustion have been proven, in real-world applications, to help customers reduce their fuel consumption by up to 10%, when compared with the previous model.
Lower fuel consumption, of course, means lower emissions. The D16 engine's reliable exhaust after-treatment system (EATS) has been designed to only use selective catalytic reduction (SCR) technology, eliminating the need for exhaust gas recirculation (EGR) and a diesel particulate filter (DPF).
This means no periodic shutdowns for regeneration. The optimized EATS design also ensures high uptime and minimal maintenance. Thanks to the latest technology in the D16 engine; customers can be assured that it pays to upgrade not only for the wallet but also for the environment.