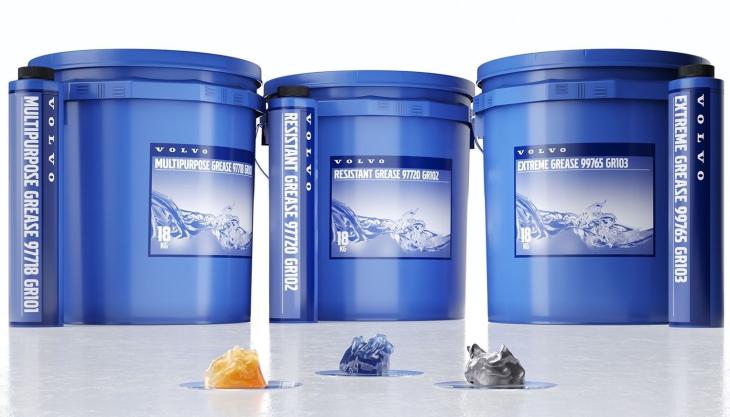 Upgraded range includes new GR103 and GR102 greases to meet customers' growing needs
VOLVO Construction Equipment have expanded their grease range to include the new Resistant Grease 97720 GR102 (GR102) and Extreme Grease 97765 GR103 (GR103), as part of their commitment to offer customers the right grease products for their requirements.
Regular greasing is one of the easiest and most effective methods of keeping construction equipment in top condition. In response, Volvo CE are offering their customers a range of high-quality greases that are extensively tested and developed to meet the unique demands of Volvo machines and the applications they work in.
The latest GR102 and GR102 greases further strengthen the offerings from the Swedish manufacturer, joining an existing lubricants product portfolio that includes the 97718 GR101, high temperature greases, and breaker paste.
GR102 is a lithium complex grease, which is resistant to water washout and offers excellent protection against rust and corrosion under conditions of extreme pressure. According to Volvo CE, it is the best choice when working in wet operating environments, shock loading, and offers extended greasing intervals.
GR103 is a premium lithium moly complex grease ideal for working in heavy load applications, such as rock handling. It provides excellent extreme-pressure performance, anti-wear protection, and exceptional staying power. GR103 is suitable for extra heavy-duty off-highway and mining applications, pivot pins and heavily loaded chassis components. It can also be used in automatic lubrication systems.
Volvo CE have developed their own set of stringent standards, which the company's greases and lubricants must adhere to; securing optimum performance and minimal downtime, whilst extending the lifetime of its customers' machines.