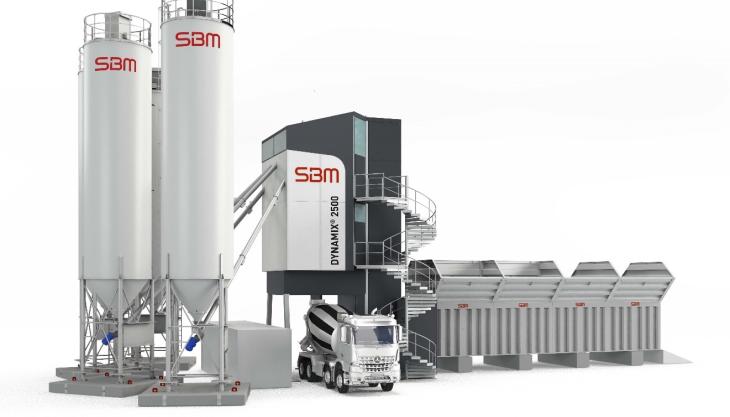 Concrete equipment specialist launches next-generation concrete batching plant from SBM
CONCRETE equipment specialists Utranazz are launching a new premium-concept concrete batching plant from SBM that is said to combine high functionality with revolutionary design.
The Dynamix 2500 is a modular semi-mobile plant that can produce 115 cubic metres of wet concrete per hour. It features a weighing platform that houses cement, water, and additive weigh hoppers and a mixer platform equipped with a 2.5 cubic metre twin-shaft BHS mixer and SBM high-pressure cleaning system.
A modern spiral staircase to the mixer and weighing platforms creates a striking visual element to the plant.
The customer can choose between three different equipment packages:
Standard – an unclad version as a solution for multiple location changes
Summer – equipped with wide, cantilevered protective roofs over the working platforms
Winter – fitted with fully cladded ISO walls and polycarbonate panels to ensure high thermal insulation (U value of 1.1W/m sq K) for year-round operation, even in extreme climatic conditions.
The plant is pre-assembled and features plug-and-play connections to ensure quick and easy installation on site in only one day.
In the technical design of the new Dynamix 2500, SBM were guided by modern industrial design, which takes functional requirements and ergonomic advantages into account in equal measure, resulting in a dynamic appearance combined with comfort and safety for the user.