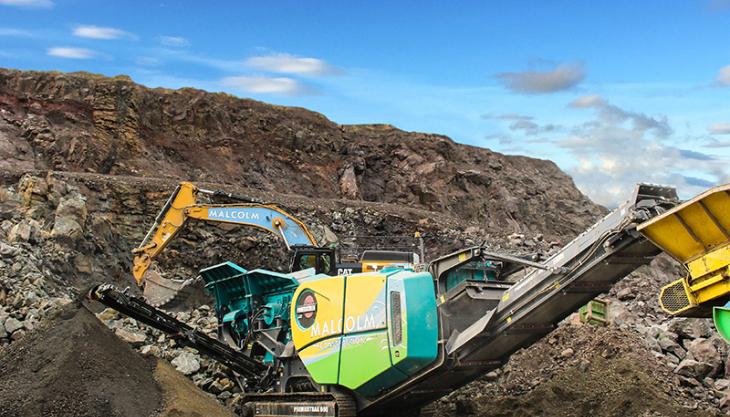 Malcolm Construction Services take delivery of new Powerscreen machine for use at Loanhead Quarry
MALCOLM Construction Services, part of the independent and family-owned WH Malcolm Group, have taken delivery of the UK's first Powerscreen Premiertrak 600 mobile jaw crusher from appointed distributors Blue Machinery Scotland. The machine is now hard at work with other Powerscreen crushing and screening equipment, processing basalt at Malcolm's Loanhead Quarry, at Bieth, near Glasgow. The company has also purchased a new 1150 Maxtrak cone crusher to achieve Type 1 sizes for drainage and concrete aggregate.
The Premiertrak 600, recently introduced by Powerscreen, is a high-performance primary jaw crusher offering a throughput of around 600 tonnes/h. Quick and easy to set up and robustly engineered for high-production quarrying and recycling applications, it is particularly suitable for processing hard rock.
The 1,200mm X 820mm jaw chamber is said to incorporate many user-friendly features,  including a fully hydraulic closed-side setting range of 75–200mm and a reversing system to clear blockages. The high-capacity jaw is fed by a vibrating grizzly feeder with variable speed control and a large grizzly area to maximize the removal of fine material. The bypass chute is fitted with wear-resistant liners as standard and incorporates an adjustable five-position deflector plate to divert material to either the product conveyor or the side conveyors. The product and tail conveyors can be raised and lowered hydraulically.
The controls incorporate a state-of-the-art, modern interface with intuitive graphics and high-resolution display for ease of operation. There is an automatic start/stop and diagnostic and machine adjustment capability. For optimum performance, the speed of the jaw crusher on the Premiertrak 600 can be varied to suit the application and feed materials.
Malcolm Construction Services have been a Powerscreen customer for more than 25 years and a Blue Scotland customer since their inception 18 years ago, with Blue supplying Pegson and Powerscreen crushing and screening machines when Loanhead Quarry first opened nine years ago.
The quarry itself produces a comprehensive range of bulk fill materials and maintains a large stock of aggregates, with the ability to generate non-specific types on request for both internal and external markets. Stocks include: Type 1 sub-base; 0/80mm crusher run; 50/100mm, 20/40mm, 10/20mm and 10/14mm single-size crushed whinstone; and 0/6mm crushed fine aggregate.
Freddie McAlister, Malcolm Construction Services' plant manager at Loanhead, commented: 'We chose this new-generation Premiertrak 600 because we have successfully used Powerscreen machines for many years and know their excellent build quality, reliability and proven longevity.
'We also like the independent live pre-screen on this new machine, which allows us to extract lower-quality –40mm scalpings during the process. We've also enjoyed a long partnership with Blue Machinery Scotland, who have consistently been of great help both during the selection and buying process, and particularly with their first-rate after-sales product support.'