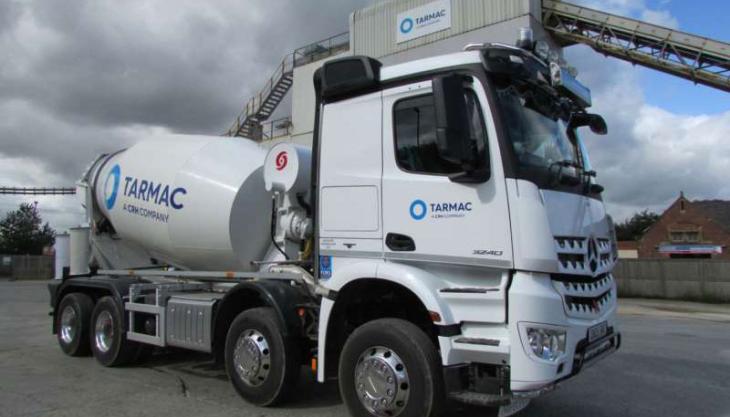 Training provider now working in conjunction with MP Skills to raise standards in the sector

UK Truckmixer Training Ltd and MP Skills, part of MPQC, are now working in conjunction to deliver the Truckmixer Awareness CPC Course. The agreement will see MP Skills take over the running, booking and delivery of future courses, giving them exclusive rights in the UK.
UK Truckmixer Training and MP Skills have been working together over the past few months, ensuring that everything is in place to continue the success of the course, whilst making it more accessible across the industry.
Improving standards is one of the key issues affecting all companies across the ready-mixed concrete sector and one which some companies are working hard to achieve. This new collaboration is expected to play a major part in raising standards to the benefit of everyone connected with the industry.

Mark Cowan, managing director of UK Truckmixer Training Ltd, said: 'We had some interest from other companies who wanted to deliver our course, which made great financial sense, but just didn't fit with our idea of why the course was created.
'When the chance to work with MP Skills came along, it was something we were quite keen to explore. After recognizing that the industry would benefit from what we had to offer, Trish Jagger, general manager of MP Skills, made it clear that they would like to be involved.
'Working with the organization that was set up by the industry for the industry was the logical choice and fitted well with our ideas. Everyone involved has worked hard to make this happen and the industry will be able to see the benefits of all this hard work.
'I've always maintained that training should be made relevant to a driver's a role, especially with something as unique as concrete mixers, and companies are now buying into this idea.
'The support we've gained, especially over the past 12–18 months, from the likes of Tarmac, Breedon, 1st Mix, CEMEX, McPhee Mixers, and our new partnership with Berkshire Engineering Supplies (BES) and ReadyJet, has proved that there was always a need for us within the industry, and now, together with MP Skills, we can strive to improve standards even further.'

Commenting on the partnership with BES and ReadyJet, Mr Cowan said: 'This is another exciting project for us and reaffirms our growing status within the industry and our commitment to health and safety in the ready-mixed concrete sector.
'Ian Griffiths and the team at BES are great believers in what we do and how we've made a difference in the industry with our training and raising awareness, and made clear their intentions by becoming our main sponsor.
'Concrete build-up has been, and continues to be, a major talking point within the industry and something that the industry hasn't really tackled, so with the backing of BES and ReadyJet, this is a great chance for all involved to offer a solution that eliminates the need for human entry into the drum. This is another solution towards the industry's vision of 'Zero Harm' and something that will continue to improve health and safety in this high-risk task.'

Mr Cowan continued: 'The next step for us is to have mixer drivers recognized for the role they play within the industry, as it's unlike any other driving job. The industry classifies truckmixers as 'specialist vehicles', yet the drivers don't receive the recognition they deserve for this 'specialist' role.
'We have some exciting ideas coming over the next few months and are talking with companies and agencies who can help us achieve this. We are also pushing forward with our Truckmixer Rollover campaign, which will help raise awareness and, hopefully, go some way towards eliminating these incidents. The figures for the UK (approximately 100 rollover incidents since 2015) speak for themselves – and these are just the ones we know about.'
Mr Cowan concluded: 'The workshops and courses we've developed for those involved in the supply chain – directors, managers, shippers, commercial etc – are also in the process of becoming CPD accredited, giving everyone the chance to understand their role regarding accountability.'