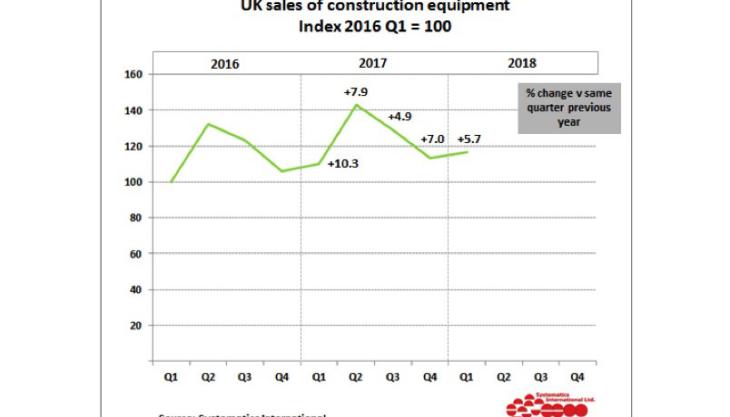 Construction and earthmoving equipment sales grew by 5.7% in the first quarter of 2018
RETAIL sales of construction and earthmoving equipment in the UK market grew by 5.7% in the first quarter (Q1) of 2018, compared with the same period in 2017, according to the UK equipment statistics exchange – a scheme run by Systematics International Ltd in partnership with the Construction Equipment Association (CEA).
This encouraging out-turn is set against the background of a weak construction market in the first quarter of the year. However, while equipment sales remain on an upward trend on a quarterly basis, the levels of growth are showing a slowing momentum. For example, growth in the first quarter of 2017 exceeded 10%.
The graph above shows quarterly sales on an index basis, using Q1 2016 as 100.
The most popular machines in the UK market are mini- and midi-excavators (up to 10 tonnes), which showed 8% growth in Q1 2018. However, the strongest growth was for telehandlers, the second most popular equipment type, where sales grew by more than 27% compared with Q1 2017.
In spite of some difficulties due to the adverse weather in the early months of the year, the house building market remains strong and continues to stimulate demand for these smaller types of equipment.
Sales of the other major types of construction equipment showed a range of growth rates. Compaction rollers continued to see the weakest sales in the first quarter, continuing the trend seen in 2017.
A significant factor here remains the emphasis by Highways England to spend on smart motorways, which involve less work on carriageways, in favour of safety barriers, drainage and other structures.
A factor continuing to boost demand in the early months of the year has been fleet replenishment within the rental industry. In the UK market, the rental industry is estimated to account for more than 60% of equipment supply, and is more significant than in other European markets.
However, the latest survey by the European Rental Association, which was published in April, anticipates that growth in the UK rental market in 2018 will only be 0.5% for the full year, and will lag behind growth in other major European countries.