Tyre Boss provide OTR tyre support for O'Donovan Waste Disposal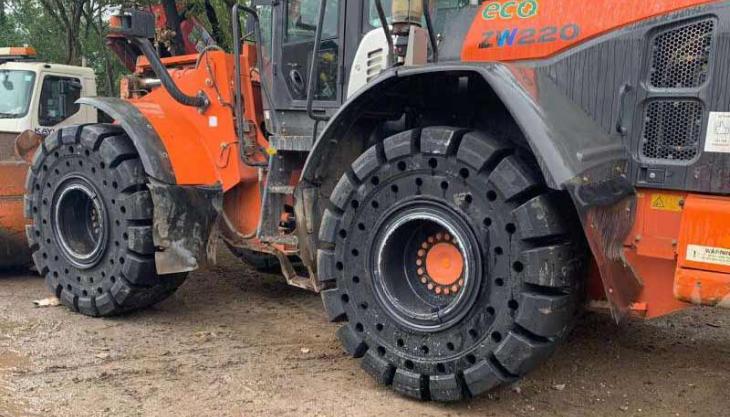 Tyre-exchange programme maximizes company's mobile plant fleet running time 
O'DONOVAN Waste Disposal, one of London's leading independent waste-management firms, are fully committed to operating at the very highest standard in all aspects of the business, from health and safety and recycling to sustainability and plant hire.  
Kayleigh Plant, the rental equipment side of the business, supplies material-handling machines both internally and externally. At O'Donovan's waste-processing facility in Hangar Lane, just off the A40, a number of Hitachi wheel loaders are operating on site to help deal with a myriad of construction and demolition waste generated across London's booming construction sector. 
To ensure the general smooth running of the machines, Tyre Boss handle O'Donovan's on-site earthmover tyre service and management needs to ensure uninterrupted mobility of all support vehicles and wheeled equipment across the company's fleet.
 
The Hitachi loading shovels have been fitted with TY cushion solid tyres featuring a super deep tread design, which is said to provide up to four times the service life of a pneumatic tyre.
Designed specifically for waste-handling, the TY cushion range is crucial to the productivity of the Hitachi machines; eliminating any vehicle downtime due to punctures or tyre damage.
As exclusive agents for TY cushion solid tyres in the UK, Tyre Boss offer an OTR tyre-exchange service. This allows tyres to be quickly replaced when needed and avoids costly machinery downtime.

A new set of TY 23.5-25 D2A tyres, for example, was recently pre-pressed on to service exchange wheels and fitted to a Hitachi ZW220 loading shovel for O'Donovans, to ensure maximum mobile plant availability and efficiency. The old tyres were taken away for safe disposal, while the wheels were refurbished and placed back into stock ready for the next order.
Ken Hancox, plant manager for Kayleigh Plant, commented: 'The TY cushion tyres are perfect for the waste and recycling environment and the exchange service saves us a lot of time. We can just pick up the phone and Tyre Boss will come on site and swap the wheels over in just a couple of hours.'