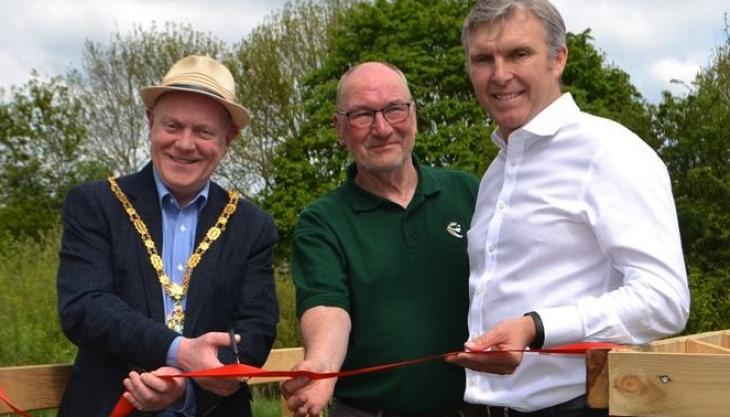 Official opening marks completion of restoration phase of former Hanson sand and gravel quarry
FARNHAM town mayor, Mike Hodge, has officially opened the Tice's Meadow nature reserve on a former Hanson sand and gravel quarry at Badshot Lea, near Farnham, in Surrey.
More than 40 people representing community groups, conservation bodies and local government attended the opening of the 55ha site on 4 May, which coincided with the Tice's Meadow management committee's 'BioBlitz' weekend involving local wildlife groups, schools and individuals carrying out a nature survey to gain a picture of the species colonizing the restored quarry site.
The quarry first opened in the mid-1990s and closed in 2010. Since then a great deal of work has been done to restore the site to a community nature reserve. The missing links were two footbridges over the river Blackwater, which are now in place and effectively complete the restoration phase.
Hanson UK chief executive Daniel Cooper (right of photo), who attended the opening, said: 'This is an important day for Hanson and for nature conservation. It demonstrates the enormous benefits that can be derived from working together, and the value that responsible mineral extraction can bring, both to the built environment through our products, and to biodiversity and nature conservation through what we can create and leave behind.
'We recognize that quarrying, like farming, forestry and other rural activities, can have an impact on the countryside. But this project shows that we can make a very positive contribution to the UK's landscape, its wildlife, its habitats and its biodiversity, and we can all take pride in what has been achieved.'