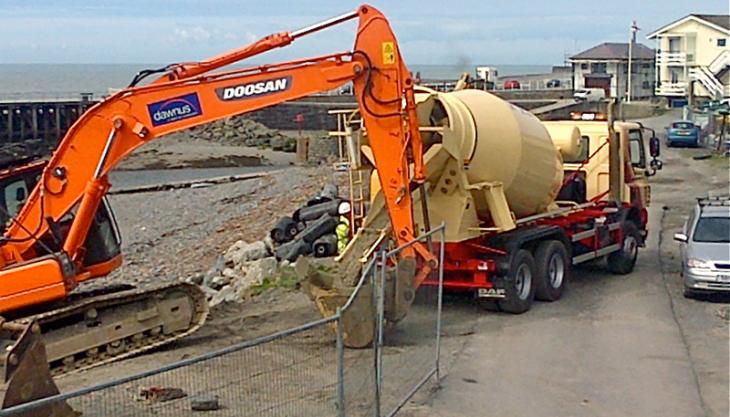 Aberystwyth concrete plant helps make good the severe damage caused by recent winter storms
THE supply of high-grade concrete for major repair work of Aberystwyth's sea defences, including its promenade, harbour, marina and jetty, is on target thanks to a team from TG Group's Aberystwyth concrete plant and a brand new, state-of-the-art, six cubic meter DAF truckmixer.
Following severe damage caused by the recent storms, the race was on to get the popular resort ready for the summer season. TG Group's team at the concrete plant in the town responded, and, working closely with a number of contractors, has provided a local solution to this demanding challenge.
Huge volumes of concrete are being brought into the affected areas to repair and restore the vital areas of sea defences and beach areas in the town. Other teams of TG Group staff are hard at work at further locations throughout Ceredigion.
Commenting on the work, TG Group's managing director, Tudor Griffiths, said: 'It is fitting that during our 140th anniversary we should be working on such vital and challenging projects in a region where we have a dedicated concrete plant.
'We are proud to be part of the restoration and rebuilding of this beautiful coastline, and are determined to finish on or before deadline.'