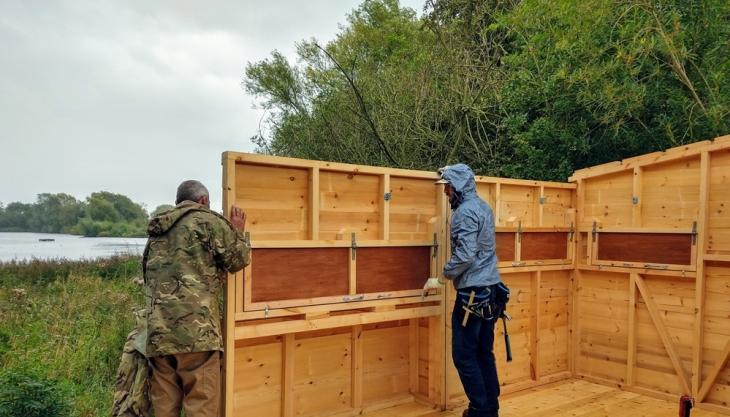 Donation from company's Landfill Communities Fund helps improve Gloucestershire nature reserve
TARMAC's Landfill Communities Fund has supported a new project that hopes to save endangered birds at Whelford Pools, a Gloucestershire Wildlife Trust nature reserve in the Cotswold Water Park.
Whelford Pools nature reserve has long been home to a vast range of birdlife, including rare wildfowl and waders. For many years Gloucestershire Wildlife Trust have managed the reserve for wildlife but have struggled to tackle bigger jobs that require extra resources.
However, thanks to a £20,000 donation from the Tarmac Landfill Communities Fund and donations from other sources, the trust has been able to start work on a £25,000 project to improve the nature reserve. As part of the project a brand-new accessible bird hide has been installed with a special low viewing area for visitors with limited mobility and those with pushchairs.
It is hoped that the new facility will help to engage the local community with the wildlife on their doorstep by giving everybody the opportunity to view the array of birds that visit Whelford Pools.
The 'Better for Birds' projects team of staff and volunteers has also been working hard to improve the woodland, reed bed and grassland areas at the reserve.
The reed bed is being cut back to encourage regrowth, creating more habitat for those species which nest and forage there, including reed bunting and starlings, whilst more grassy areas have been kept open and scrubby bushes have been cut back to create soft habitat edges, allowing berry-bearing plants to flourish. This will add to food resources for birds, create a mixture of long and tall grasses for bird nesting and providing better habitat for invertebrates.
In addition, the woodland edge has been tamed to allow sunshine on to the water and prevent too much leaf litter from landing in it. The wet woodlands have also been coppiced to increase the amount of deadwood, thereby creating ideal habitats for insects and improving food resources for warblers, martins and swallows, as well as the eight species of bat recorded on the reserve.