New report highlights the areas where the business is delivering significant social impact
TARMAC have launched their Levelling Up Impact Report this week, in partnership with the Purpose Coalition. The report was launched at Next Gen 2030+, an event hosted by Tarmac to discuss business solutions to climate change in the construction industry.
Tarmac are the first organization in the materials or construction sector to publish a Levelling Up Impact Report, which highlights the areas where the business is delivering significant social impact, using the architecture of the Purpose Goals. Created by the Purpose Coalition, the 14 goals cover key life stages as well as the barriers that can prevent people from accessing opportunity. They also help to identify the gaps where organizations can extend their work to provide support where it is most needed.
The Impact Report recommends ways that Tarmac can further build on the work they are already doing to promote opportunity, including sharing their best practice more widely with others in the sector and in their supply chain, the development of a strategic employment pipeline delivering social value, making further progress on gender equality including in their top pay bands, introducing socio-economic measurement and tracking and evolving employee support to address cost-of-living challenges, and the development of digital skills.
Tarmac's Act sustainability strategy, which is incorporated into all aspects of the company's work, focuses on three pillars – people, planet, and solutions – that support levelling up and harnessing the energy transition in the company's journey to net zero. As a result of the strength and breadth of their operations, Tarmac are already successfully meeting many of the Purpose Goals, particularly in their efforts to attract and retain talent from every part of the communities they serve.
Highlights include:
Outreach work with schools and local stakeholders focuses on those without contact networks, using an anonymised and inclusive recruitment process with staff trained in unconscious bias

Early Years Support Plan recruits early career entrants, often from low socio-economic backgrounds, and continues to support them with mentors and learning programmes

An apprenticeship scheme which currently employs nearly 300 apprentices, supporting those who lack specific qualifications or necessary soft skills

Comprehensive employee journey and development plan, offering targeted schemes and courses through the company's Leadership Academy and the chance to work on small projects to identify and progress ideas to help the business and its customers through its Employee Development Programme

Research and development to ensure that the materials and processes used are sustainable, also supporting supply chain partners to net zero, with an Innovation Challenge to find better ways of doing things.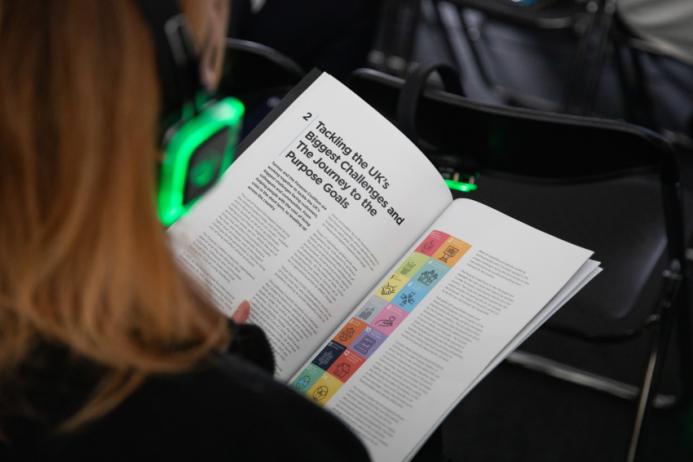 The Rt. Hon. Justine Greening, chair of the Purpose Coalition and former Education and Transport Secretary, said: 'Tarmac have a huge reach across the country. That means they also have huge potential to deliver purposeful impact on the communities where they operate, not just in terms of the company itself, but also extending that to their supply chain and to the local projects they support.
'As a people-focused anchor institution, Tarmac have the capacity to create a pipeline of talent that starts with their outreach in schools and continues with their nurturing of employees, demonstrating that a large business can produce social value through employee engagement and development programmes. Their willingness to ensure that they recruit from every part of the community and to measure and evaluate their progress means that opportunity is spread much more widely.
'I am delighted to take part in today's event, which is another example of Tarmac's willingness to develop collaborative and workable solutions to the challenges the construction sector is facing. Their people-centric approach is balanced with their planet-focused strategy, using the very best of their research to ensure sustainability and the achievement of net zero within their own organization and that of their supply chain. I'm looking forward to continuing to work in partnership with them to promote meaningful social impact.'
Graeme Boylen, HR director – Europe West at Tarmac's parent company, CRH, said: 'We're incredibly proud of the work we've done so far on delivering tangible social impact, and that it's been recognized today by the Purpose Coalition. In particular, we welcomed the findings about the work Tarmac is doing in schools, through our apprenticeships and our engagement with both our staff and the communities we operate in.
'We've found this a really valuable process and, as the first in the sector to publish a Levelling Up Impact Report, we hope that we can encourage other parts of the construction industry to take part. However, we recognize that we can go even further, and plan to take action on the recommendations in today's report to create even more opportunities, build communities and continue our journey to net zero.'
Tarmac's Levelling Up Impact Report is available here.