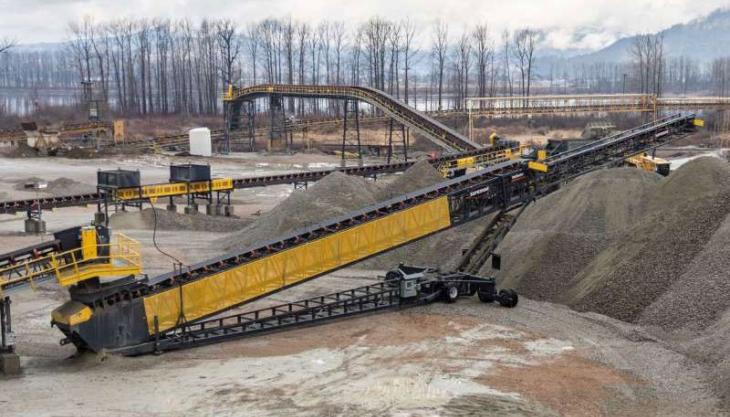 Company to unveil new bulk material handling and processing solutions at Conexpo-Con/Agg 2023
SUPERIOR Industries Inc., US-based manufacturers and global suppliers of bulk material processing and handling systems, have announced that they will be showcasing no fewer than eight brand-new products at Conexpo-Con/Agg 2023 (14-18 March).
Some of the latest equipment and solutions on show will include two new cone crusher models – the Dakota bearing cone and Endeavor spider-bushing cone. Along with the 250 tons of other Superior products that will be displayed, the company will also be displaying their Liberty jaw crusher, Valor vertical-shaft impactor (VSI), and portable Sentry horizontal-shaft impactor (HSI) closed-circuit plant for recycling applications.
The new 4250 Sentry HSI features a patent pending recirculating conveyor which centralizes the crusher feed for full utilization and extends wear life of the blow bars. Other key features include: application-specific grizzly configurations; interchangeable cross conveyors; and screen media below the grizzly section.
Elsewhere on the Superior stand, the company will be showcasing its increasingly broad portfolio of Fusion modular platforms which is said to be a good match for aggregate producers seeking semi-static plants that are easy to install, maintain and offer cost-effective benefits. On display will be the three-deck Guardian horizontal wet screen fusion platform with an Aggredry dewatering screen attached to one of its discharge points.
Superior will also be displaying their range of TeleStacker conveyors, including a 170ft x 42in XTP swing axle model with a working automation panel that visitors can interact with in the booth. 
Lastly, Superior will be displaying a wide variety of conveyor components, with the manufacturer planning to show more than three dozen individual idlers, pulleys, scrapers, and other conveyor accessories. New products include a redesigned line of Exterra belt cleaners with some new options, a modular load zone skirting system for dust and spillage control, and unique application-specific idler bearing seals for longer-lasting idlers in demanding conditions.