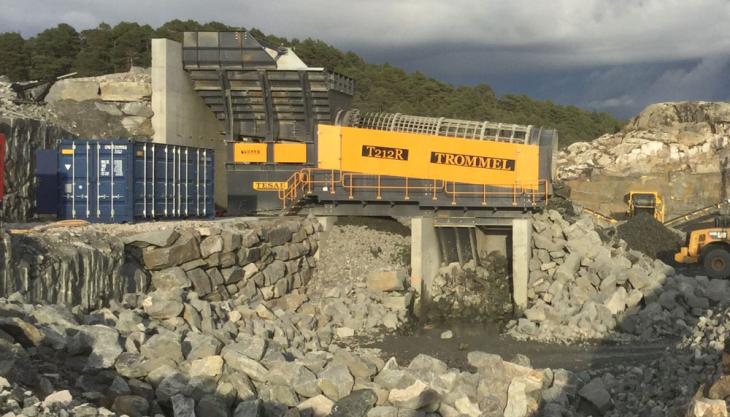 Norwegian quarry operator takes delivery of latest Hercules HT212 static trommel screen
STELEX Engineering Ltd, exclusive manufacturers and suppliers of the original 'Hercules' range of heavy-duty trommel screens, have installed their latest static machine at a quarry in Norway.
The model HT212 was chosen by the customer owing to its ability to work with very abrasive feed material and to process large product sizes at high rates. The trommel was supplied in conjunction with Tesab Engineering and presented in the Northern Ireland-based company's colours.
According to Stelex, the Hercules HT212 is rated up to 750 tonnes/h and capable of accepting a maximum lump size of 1,050mm direct from a dumptruck into its heavy-duty feed hopper.
Operating on site in Norway, the new trommel is required to screen out specific weights of rocks, which meant the barrel had to be specially designed to suit these parameters, whilst maximizing the 'open area' of the screening surface.
The second half of the 8m-long barrel is equipped with chutes to separate different product sizes into collection bays on each side of the trommel, whilst a standard 20ft container provides a safe and lockable housing for the trommel's motors, pumps and associated hydraulic and electrical equipment.
The purpose-built power unit allows the barrel's rotation speed and the feeder stroke rate to be changed quickly and easily via a touch-screen, which means parameters can be changed to suit feed material characteristics and weather conditions at different times of the year.
UK-based Stelex Engineering say the modular design of the Hercules heavy-duty trommel allows for simple installation and means the machine can be up and running very soon after delivery to site.