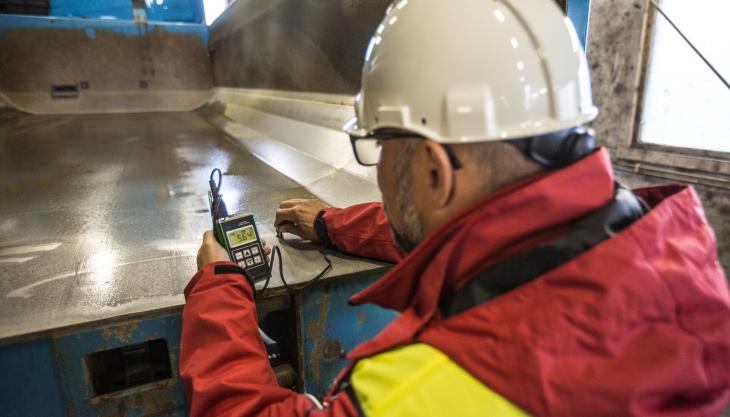 Latest product and production developments presented at triennial Hardox network Global Conference
IF steel is harder and tougher, you need less of it in your machinery. If there is less of it, your payload is improved, so you are moving more product and less machinery. The equation is that simple, even if making steel that is both harder and tougher is not.
Harder and tougher are not the same thing and often come with a trade-off between the two. Harder resists wear but can be brittle. Tougher is less brittle but might not wear as well.
The latest developments in harder, tougher steel were presented by SSAB (Swedish Steel) to their Hardox Wearparts network during the company's three-day Global Conference in Nyköping, Sweden, at the beginning of this month [October].
Hardox Wearparts now comprises a network of 450 partners in 88 countries and there were 330 people from 154 partners in 52 countries at the Sunlight Hotel for the Global Conference, which managed to combine some serious discussion during the days with rather more frivolity in the evenings.
The UK members of the network are: Bruce Engineering, Jamieson Welding, Hardox Wearparts Stirling, Barrnon, MST, LH Quarry Plant, MTL, JJ Bullen, MSS, Steelpro, Edwards Steel Services, Pegasus Profiles Ltd and Pegasus Profiles Southern Ltd.
Every three years this major Swedish specialist steel producer holds a conference for its ever-growing Hardox network for an update on the latest developments in steel and to listen to some specialist speakers, who this time included Per Lange, a sales coach who explained how to gain a deeper understanding of customers' needs.
Major developments from SSAB are Hardox 500 Tuf, a new generation of Hardox wear plate for tipper bodies, buckets and containers, and Duroxite 300, a steel alloy overlay designed for extremely severe sliding wear for both dry and wet (slurry) abrasive environments.
Rory Whitehall, a director of MST with their head office in Durham, said the real benefit of the conference for him was talking to so many other people from the international Hardox Wearparts network. 'You get to meet a huge number of people and they share their knowledge of lots of different applications all round the world.'
The latest new Hardox steel likely to be of particular interest to quarries is 500 Tuf, which has exceptional hardness and toughness. It combines the best properties of Hardox 450 and Hardox 500. SSAB say the result is a wear plate with no real competition in the market.
Hardox 500 Tuf can perform as a structural material in heavy-duty tipper bodies and buckets. And not only is it used thinner, so there is less of it to move around, it is recommended to be used without ribs on dumpers (further reducing weight) to allow it to flex rather than dent when the dumper is loaded. Moreover, it has a low wear rate, so needs replacing less often.
In buckets, too, less steel is needed so more product can be lifted. That means less fuel burnt per tonne of finished product or, if you prefer, more finished product per litre of fuel burnt.
Savings can be significant – a dumper might typically carry an extra 10–20% of product, or even more in some applications, or Hardox might mean you can use a smaller, more fuel-efficient dumper.
The performance of Hardox 500 is proven even in freezing conditions. Superior wear and dent resistance allow for increased service life and it has the ability to withstand heavy impact.
Typical working conditions include loading and unloading of heavy and sharp rocks in quarries and mines, and handling large and heavy recycling materials, such as concrete with rebar dropped into tippers.
Hardox 500 Tuf has gone through rigorous pre-launch testing in real life applications, which enables SSAB to boast:
85–100% longer service life compared with Hardox 400*
Guaranteed impact energy of 27 Joules at –20°C
Narrow Brinell hardness window of 475–505 HBW
High dent and crack resistance to impact by both sharp and heavy objects.
*SSAB's WearCalc and TippCalc calculations based on sliding wear with granite
During the three days of the Global Conference the Hardox partners got to see Hardox being made and took part in a variety of conference sessions, during which SSAB also wanted to learn from them what their customers need from the steels they use. Because, as Ross Wylie, Hardox Wearparts network manager, said, the end-user offering through the network is an important part of the steel company's business.
SSAB say they work on the development of their products all the time, always aiming to produce products that perform better for their customers.
During the conference SSAB also announced plans to replace their coke-burning blast furnaces with electrical arc furnaces, powered by renewable energy. This would cut out a number of CO2-creating processes, including the burning of fossil fuels to make coke, as well as allowing SSAB to use recycled steel with their newly mined ore.
As renewable electricity can be variable, SSAB plan to store it by separating hydrogen out of water using Sweden's excess of electricity supply at certain times of the day. When it is burnt, it turns back into water. SSAB are partnering with their electricity supplier and their iron ore supplier to develop this technology, which it hopes eventually to be able to export to steel producers all over the world.
Thomas Hörnfeldt, SSAB's vice-president of sustainability, said transferring to electricity now would increase the price of the steel, but sustainable electricity production is increasing so quickly, with the cost of the equipment to produce it rapidly falling, that he believed the price of electricity will come down.
And for those who wonder why steel still needs to be mined when 85% of scrap worldwide is recycled (92% in Sweden), Mr Hörnfeldt had a surprising statistic: the world is using between three and four times more steel each year than it recycles.
He quoted former UN Secretary-General Ban Ki-Moon: 'We are the first generation that can end poverty and the last that can stop climate change.'
SSAB are responsible for 10% of Sweden's CO2 production and worldwide steel production accounts for 7% of annual man-made CO2. The production of every tonne of steel adds 1.5 tonnes of CO2 to the air. 'We thought we could do better,' said Mr Hörnfeldt.
More about the developments in steel and its production will appear in Quarry Management magazine next year.