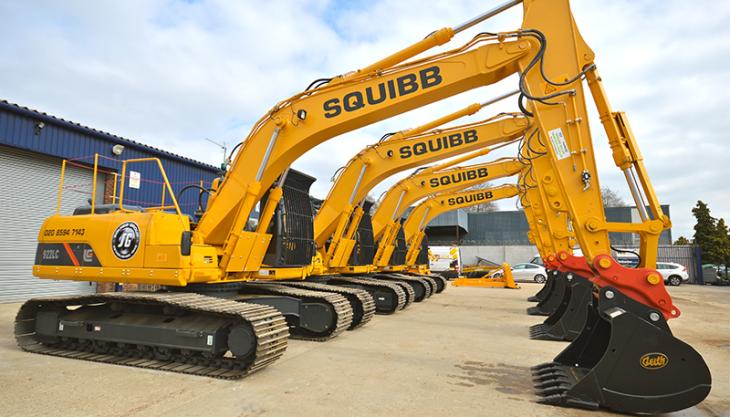 London-based demolition firm adds eight excavators and two wheel loaders to its fleet
LONG-established London-based demolition contractors the Squibb Group have recently invested in more LiuGong excavators and wheel loaders, which have been supplied by Portsmouth-based UK dealers Construction Plant & Machinery Sales.
This latest order follows the success of two LiuGong units that joined the Squibb Group fleet in early 2013 and which have proven to be extremely reliable in the tough and rigorous demolition environment.
The latest additions include eight LiuGong hydraulic excavators: two 22-tonne CLG922LCIII machines, powered by a 105.6kW (142hp) Cummins engine; five 25.5-tonne CLG925LCIII machines, powered by a 125kW (175hp) Cummins engine; and one 37.6-tonne CLG936LC machine, powered by a 186kW (253hp) Cummins engine. In addition to the excavators, the Squibb Group have also ordered two CLG856III wheel loaders.
The new excavators have been heavily modified to meet the demolition specification required by the Squibb Group. These modifications include: heavy-duty ram guards on the bucket cylinder; ram and check-valve protection plates on the boom lift rams; full FOPS cab cage; side-skirt impact protection; "boxing ring" fall-from-height protection barriers; flashing beacons, including green seat-belt light; and a rear-view camera system.
Commenting on the company's decision to purchase more LiuGong kit, Squibb Group managing director Les Squibb said: 'We bought two LiuGong excavators in February 2013 to run alongside our existing fleet of machines supplied by Komatsu, Volvo, Liebherr and Hitachi. The LiuGong units have proven to be ideal for the tough demolition environment; they are built of tougher fabric than the machines we currently run and are powerful and reliable.'
Mr Squibb continued: 'We get a lot of damage to bonnets and panels due to the nature of the work and the cost of replacement parts from LiuGong are so much lower than we have experienced with other suppliers. The back-up package and hands-on approach from our dealer, Construction Plant & Machinery Sales, is refreshing, and with clients demanding ever-tighter programmes and margins, it's a real benefit.'