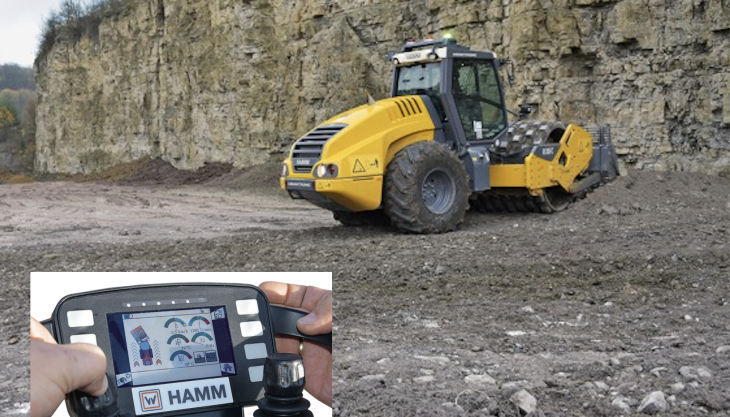 Safer restoration of German quarry with remote-controlled pad-foot roller and dozer blade combination
TWO specialized Hamm H20i CP compactors are currently helping in the restoration of Wilhelmsglück Quarry, in Germany, where, for the last two years, they have been tasked with backfilling and compacting waste material from various construction projects in the region.
Hamm supplied quarry owners Leonhard Weiss GmbH & Co. KG with the two 20-tonne pad-foot rollers, both of which have also been equipped with a special dozer blade for heavy-duty earthwork operations.
Moreover, Hamm developed a bespoke remote-control system for one of the machines, as there was a risk that vibrations created when compacting material close to the quarry face could cause rocks to work loose and fall on the machine.
'We adhere to strict safety regulations and, for this reason, having personnel working right in front of the edge was not an option for us,' explained site manager Daniel Horcher. 'After some research, the use of a remote-controlled compactor seemed to be the simplest yet most versatile solution.'
Developed for the H-series compactor in just three months, the remote-control system allows the machine to be started, stopped and steered, the vibration frequency and working speed to be adjusted, and the dozer blade to be operated, all from a safe distance and without placing the operator in the danger zone.
'Where required for safety reasons, we use the machine with remote control,' said Mr Horcher, 'but in all other areas, we use the second compactor without remote control. And of course, we operate the remotely controllable compactor as normal from the cab when it's working a safe distance from the edge. Switching between the two is incredibly easy; all it takes is the touch of a button.'