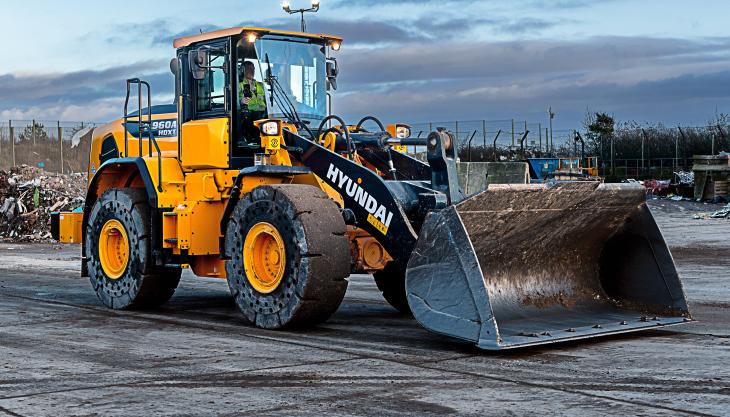 Belfast-based waste-management firm impressed with two new Hyundai HL960A wheel loaders
ONE of Northern Ireland's leading waste firms, Skipway Waste Management & Recycling, has marked a 25-year relationship with Hyundai Construction Equipment Europe with the purchase of two brand-new A-series wheel loaders.
Belfast-based Skipway had briefed their trusted dealer, Northern Lift Trucks, to source machines that would be durable, with a focus on good fuel economy and operator comfort, and the machine that stood out as being well suited to the job was the HL960A.
Matthew Heatrick, systems manager at Skipway, said: 'We've only ever used Hyundai loaders here at Skipway, mostly 770 models over the years, so we knew that we liked and trusted the brand and wanted to stick with them for our next purchase.
'Already we're seeing the benefits of upgrading to the new A-series machines – their fuel economy is so much better; they're using half the diesel of the previous ones, which obviously makes a huge difference to our finances.'
The two machines have been earmarked and specified for different uses – one of the HL960As will be based at a materials recovery site in Belfast and used for the heavy-duty tasks of stockpiling waste and loading rubble and timber. This machine has been fitted with longer arms and supplied with different bucket attachments to ensure the HL960A can tackle any load, terrain and material in its path.
The second HL960A will be used for waste transportation at a second Skipway site in Newtownards, where flexible and robust machines are the key to running an efficient operation.
Mr Heatrick continued: 'A typical day on one of our sites is long and complex, so we need machines that can live up to the challenge. The A-series has been above and beyond what we expected, and our operators have been extremely complimentary about them. The main feedback has been about how comfortable they are – the joystick controls are really easy to use, and the visibility is much better than any machine they've used before.
'From our side, the camera system gives us peace of mind that the machines will be operated safely, and the fuel economy is obviously a big plus. We are very impressed with the new A-Series and these first machines definitely won't be our last.'
Acquired by the R. Heatrick Group in 2012, Skipway Waste Management & Recycling provide demolition, aggregate, haulage and skip-hire services throughout Northern Ireland. With a focus on sustainability, Skipway's current waste recycling rate is 92%, equating to more than 45,000 tonnes, helping the company to deliver on its promise of building a more sustainable future for Northern Ireland.
Supplied by Hyundai Construction Equipment dealer Northern Lift Trucks, the HL960A wheel loader is part of Hyundai's flagship A-series – a new generation of construction equipment that complies with European emission levels. The Stage-V HL960A, which was awarded the SaMoTer Technical Innovation Award in the 'Medium Wheel Loaders' category, is suitable for general construction applications as well as heavy-duty work on industrial, mining and quarrying projects.