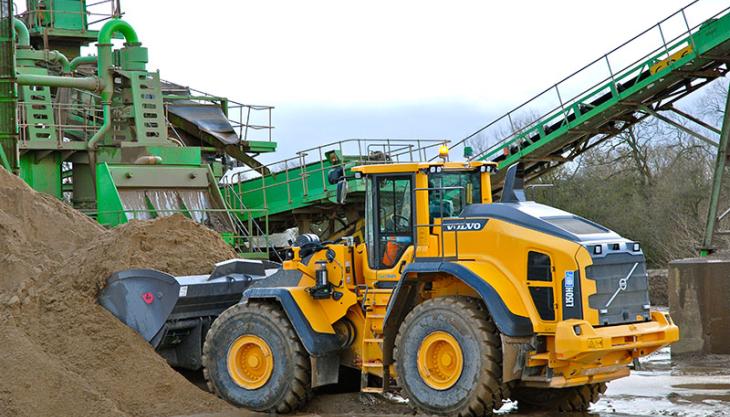 East Yorkshire quarrying and recycling firm takes delivery of two Volvo L150H loading shovels
TWO new Volvo L150H loading shovels recently supplied to Yarrows Aggregates Ltd of Beverley, East Yorkshire, are already proving their worth in terms of increased production with significant fuel savings, according to managing director John Bird.
Yarrows Aggregates are no strangers to owning and operating Volvo construction equipment products, having acquired their first loading shovel back in 2002.
'We've run Volvo machines of various sizes ever since and have been very satisfied with their reliability and quality,' said Mr Bird. 'The most important factor for us is the ability to support the product in the field, and I have to say that, in our experience, if there has ever been a problem or an issue, Volvo have never walked away from it, and this speaks volumes in our opinion.'
However, choosing the two recent H-series loading shovels was not an automatic decision, with Yarrows Aggregates having evaluated the market in detail. 'In the end, the overall package on the table and the machine specification, coupled with our good experiences all round operating Volvo equipment, were the deciding factors,' explained Mr Bird.
He added: 'Whilst we were somewhat sceptical of running the latest Stage IV engines and Volvo's claims of reduced fuel consumption, we have been more than pleasantly surprised at the significant reduction in fuel consumption with these new loaders together with increases in production.'
The new 25-tonne loading shovels feature a 13-litre Stage IV final engine that develops 300hp between 1,300 and 1,400 rev/min.
Both machines have been configured slightly differently for specific duties in the quarry; one machine is equipped with a 4.8 cubic metre rehandling bucket for stock handling and loading lorries, and the other fitted with a direct-mounted 4.0 cubic metre hi-tip bucket to load the hoppers over the storage bins.
In addition to the two new L150H loading shovels, Yarrows Aggregates Ltd have purchased a Volvo EC160DL crawler excavator complete with dozer blade, which has been put in charge of a brand new recycling plant that has just been commissioned on site.
'We have a finite amount of sand and gravel reserves here at Catwick, so five years ago we started a feasibility study looking at the possibility of importing inert waste materials for recycling,' said Mr Bird. 'The result is a significant investment in a new plant capable of processing concrete, rubble, soils and other inert materials for crushing and recycling.'
Yarrows Aggregates Ltd, part of the F.D. Bird group of businesses, work deposits around Old Hall Farm at Catwick and have a sales and distribution network covering the north-east of England. They also specialize in the production of decorative aggregates for the domestic sector.
The introduction of the new recycling plant for aggregates, concrete, soils and other inert waste materials will enhance the company's product offering and help conserve its current extensive aggregate reserves further into the future.