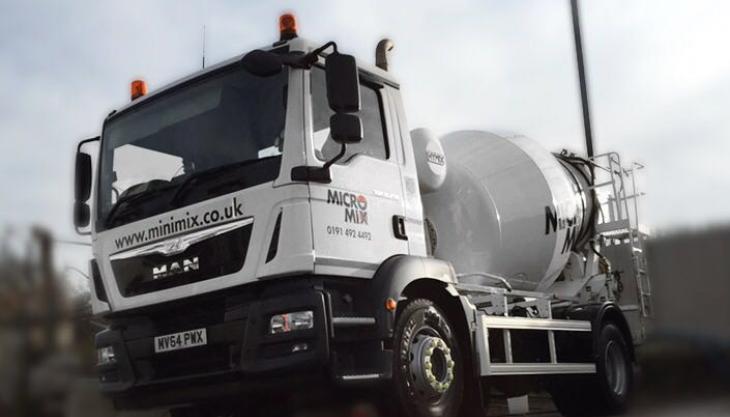 Wear Mini Mix create dedicated Driver Development CPC course for truckmixer drivers
WEAR Mini Mix Ltd, a ready-mixed concrete supplier based in Sunderland, Tyne and Wear, have begun 'shaping the future' of concrete mixer driver training within the industry. Through their training arm, UK Truckmixer Training, they have created what they say is the first and only dedicated Driver Development CPC course aimed specifically at truckmixer drivers.
Tony Cowan, who has more than 30 years' experience in the industry and is the owner of Wear Mini Mix Ltd, said: 'In my 30 years of driving mixers there has never been and still isn't any sort of industry-recognized training for mixer drivers.
'If you look at it from a safety point of view, everyone working or operating plant or machinery on a building site has to have had an industry recognized training course, yet anybody with a Class 2 HGV licence, regardless of experience or how long they have had their licence, can drive an 18- or 32-tonne mixer without any form of training.
'It is a common misconception that mixer drivers are trained, when in reality they aren't, and as ours is a unique driving sector within the industry, we needed to offer our drivers more training that was 'recognized'.
'As we have a fleet of nine trucks (seven contracted to Tarmac and two of our own mini-mixers), it's impossible for us to be with the drivers at all times, so we had to make sure that we did as much as possible with regards to their training. So we decided to put together all the training we gave them and turn it into a seven-hour CPC course.'
Tony Cowan's brother Mark, who himself has 26 years' experience driving mixers and was responsible for designing the course, added: 'As an experienced mixer driver, the knowledge I have gained over years is just what I have 'picked up', which, rightly or wrongly, is how the industry operates, and from a driver's perspective is just assumed knowledge.
'When I started to develop the course there was a lot of research that went into it as we had to get it right to make sure our drivers were not only trained properly, but could operate safely and efficiently.' 
With no prior experience in developing courses, the brothers finally had the course finished and ready to submit to JAUPT.
'After travelling the country and trying to get support for our course with different companies and organizations within the industry, we decided to just go ahead and submit it. The course was approved within eight hours, so regardless of all the negativity we faced within the industry, we knew we were doing something right,' said Tony Cowan.
'We had a lot of backing from Tarmac, especially their mini-mix division who we work closely with and Sam Fergus who is Tarmac's logistics manager for concrete. Sam was keen for us to deliver the course to their Driving Academy and we held our first course for them in June 2016.'
'I think what Tarmac like is the fact that the course was developed by mixer drivers and is only delivered by experienced mixer drivers, so we have that relevant knowledge. The course is not just a PowerPoint presentation but is interactive with attendees regardless of their level of experience. The feedback back we have had from our attendees and the Driving Academy has been excellent; we are already taking bookings for 2017 and have had interest from Germany and even Dubai.'
Mark Cowan added: 'We are both of the belief that 'if it's your job to tell me how to do my job, shouldn't you be able to do my job?', which is how we look at the course. Anybody can read a book on how to do something, but until you have actually driven or operated a mixer then you wouldn't be able to give an honest or valid opinion.'
Wear Mini Mix Ltd have now finished their second mixer-specific course and are currently working on their third course, ready to be submitted in early 2017. UK Truckmixer Training hold courses nationwide seven days a week. Visit www.uktruckmixertraining.co.uk for more information or contact Mark Cowan on: 07899 924287.