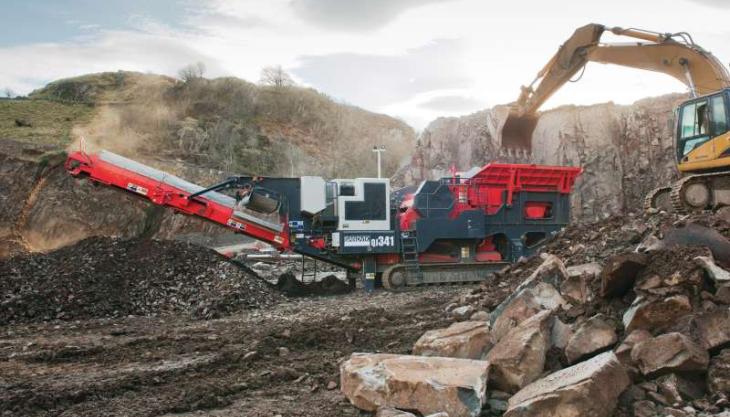 Flagship QJ341 mobile jaw crusher and QH331 Hydrocone crusher to take centre stage in Edinburgh
THE mobile crushing and screening division of Sandvik Mining and Rock Technology will be highlighting the best-selling models within its mobile crushing and screening portfolio at this year's ScotPlant exhibition at the Royal Highland Centre, Edinburgh, from 20–21 April. On display will be the QJ341 mobile jaw crusher and the QH331 Hydrocone crusher.
Catering for a wide range of crushing applications, the QJ341 (pictured) is the flagship of the range. It is equipped with a powerful, fuel-efficient engine and a C12 jaw crusher with a large jaw opening of 1,200mm x 750mm.
A range of features helps to ensure continuous uninterrupted crushing combined with a high degree of operator safety. These include a user-friendly PLC control system, a load-control system for the feeder drive, and a speed wheel fitted to the main conveyor.
Other key advantages of the QJ341 include: a choice of 3A fixed-speed or Stage 4 Final engines; proportional control of machine tracking for increased manoeuvrability; a hydraulically driven cooling fan with auto reverse to back-flush dust from the radiator; a highly efficient hydraulic control system with all controls located at ground level for ease of access; and the availability of an optional double-deck pre-screen with the QJ341+ model.
The versatile QH331 is a robust yet compact machine designed to meet high product quality demands through the use of the renowned Sandvik CH430 Hydrocone crusher with a choice of six different crushing chambers and a variety of bush settings, combined with the mobility of a tracked unit.
A key attribute of the QH331 is the advanced design of the CH430 cone, which possesses a longer and steeper crushing chamber than other comparable models. As a result, material is said to remain in the crushing chamber longer, optimizing reduction and providing a superior product shape.
The CH430 also comes equipped with a Hydroset CSS regulation system, allowing closed-side setting adjustments whilst crushing via the main control panel. This automatic setting regulation system not only helps optimize production, but also keeps track of liner wear to minimize interruptions and downtime.
Other key advantages of the QH331 include: a remote camera for visibility of the crushing chamber from ground level; a level sensor to regulate the feed for optimum production, reduction and shape; direct drive for optimum efficiency and power transfer; ease of maintenance with no crusher backing for rapid liner changes; and the availability of a 13ft x 5ft (4m x 1.5m) hanging screen – the largest in its class.