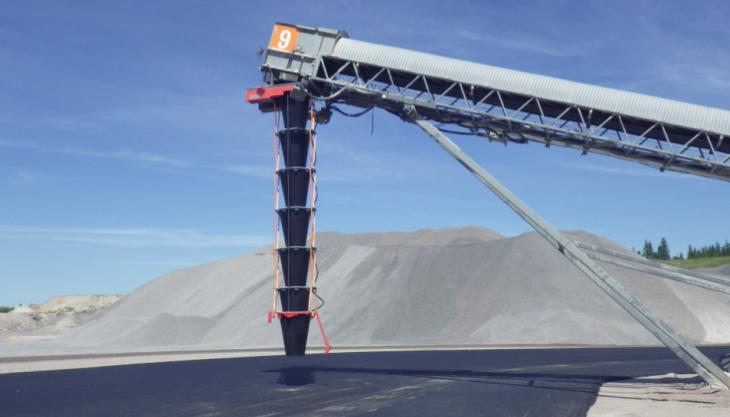 New chute minimizes dust emissions, reduces stockpile segregation and improves product quality
HILLHEAD 2016 saw the global launch of Sandvik's new, cost-effective, WE6000i telescopic chute, which has been developed for use with feed conveyors that have a maximum belt width of 800mm.
Based on the market-leading WE series, the new chute has been designed to minimize dust emissions and loss of material, thereby improving operational efficiency and benefitting the environment in which it is used.
A key feature of the chute that allows it to produce such benefits is the fact that a vacuum is created inside it by the material flow, thereby reducing the need for expensive service-demanding filtration systems.
A reduction in dust emissions means lower clean-up costs and less need for maintenance, service and repair work around the plant. Using a telescopic chute also helps to reduce stockpile segregation and improve product quality.
The WE6000i has been designed for use in a variety of areas and applications, with the chute itself being of a simple rugged design, with a good ratio between minimum and maximum length, and the number of conical chute segments varying depending on the height of the stockpile and that of the feed conveyor.
The chute can be operated from a control panel, via a PLC with automatic level sensor, or manually via remote control. The chute senses its height above the material stockpile and automatically adjusts itself to minimize the risk of dust emissions. In addition, the wire winches are equipped with limit switches.
With its special, modular design, the WE6000i – as with all WE-series telescopic chutes – allows for a choice of materials to be used in different applications. The construction of the chute segments has been optimized for flexibility, long life and material flow.
Key features and benefits of the WE6000i telescopic chute include: a reduced risk of dust emissions; improved employee working conditions; improvements to the neighbouring environment; reduced material segregation and contamination; improved product quality; reduced maintenance and clean-up costs; and an improvement in work safety.