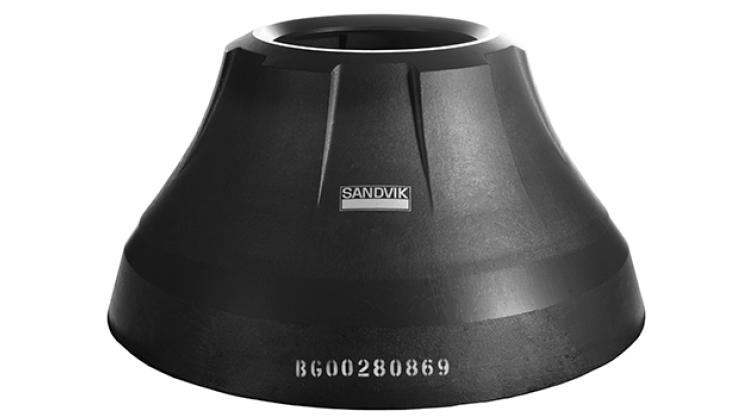 Company unveils new way to secure more profitable cone crusher output with minimal investment
HILLHEAD 2014 saw Sandvik Construction announced the launch of Optiagg – a new way to secure more profitable cone crusher output with minimal investment. The Optiagg package includes computer modelling and analysis, in addition to a redesigned mantle, a concave ring and all other required spare parts.
Through the launch of Optiagg, Sandvik Construction now offer a new dimension in operational support for their CH430, CH440 and CH660 cone crusher models. As well as complete redesign of the mantle to deliver greater efficiency, the real benefits stem from computer modelling and analysis, as they provide a scientific approach that secures more of the most valuable fractions without costly trial and error.
Effectively, Optiagg takes the guesswork out of optimizing crusher performance as there is a step-by-step process that includes analysis of the current conditions, modelling to identify the optimal configuration and set-up, as well as the validation of the outcome. This results in the chamber set-up being able to be fine-tuned according to the desired output, and the specific demands of the application.
Typically, customers want to gain more of a specific fraction while either reducing the level of fines, or increasing the reduction ratio. By using Optiagg, a clear insight into the gains that can be expected can be seen, with the resulting improvements being predictable and consistent. This allows an accurate economic forecast of the crusher's output, and, in most cases, the investment will pay for itself within a short time frame.
Jesper Persson, vice-president of crusher spare and wear parts with Sandvik Construction, explained: 'Optiagg is not just a new product – it's a completely new approach that enables us to deliver what the customer wants with greater certainty. We can promise more truckloads of the most valuable fractions. The customers who tested Optiagg were amazed when they calculated their potential annual gains. If you have a Sandvik cone crusher, it's truly a no-brainer solution.'
In addition, Sandvik say optimizing output through use of Optiagg can result in a number of further potential benefits, including reduced wear and tear on the mantle and concave ring, as well as possible energy savings.