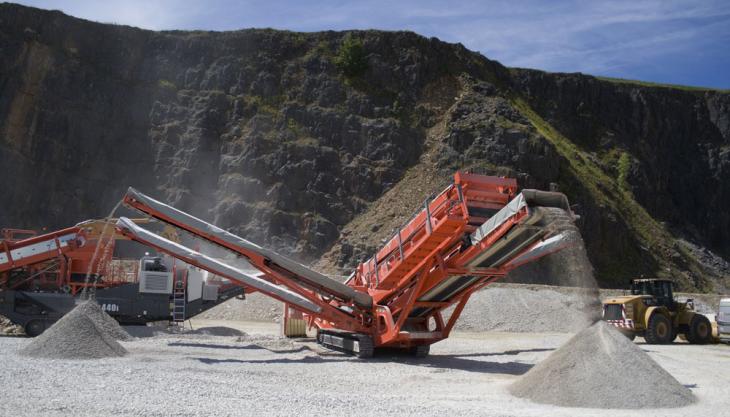 Sandvik Construction to unveil some exciting new developments at international quarrying exhibition

Sandvik Construction will be taking advantage of Hillhead 2012 to highlight their product range, with many old favourites being shown, and the unveiling of some exciting new developments.

The Sandvik product offering provides solutions for virtually any application and encompasses such diverse businesses areas as surface rock quarrying, excavation, tunnelling, demolition, recycling and civil engineering. The range of products developed to service these industries includes rock tools, drilling rigs, breakers, tunnelling equipment, crushing and screening machinery, and bulk-materials handling systems. 

Hillhead 2012 is seen as the perfect opportunity for Sandvik to show and demonstrate members of their total solutions product range, at what has become the world's leading quarry and construction showpiece. Products being shown include:

Displayed on the stand:
UJ440 cone crusher
QE440 scalper screen
QA331 three-way-split screen
QE140 scalper screen
QJ341 jaw crusher
QJ241 jaw crusher
QH331 cone crusher
DI550 drill rig
A selection breakers
Vertical shaft impact crusher 
Horizontal shaft impact crusher.
In the demonstration area:
QI240 impact crusher
QJ341 crusher feeding a QH440 cone crusher
The QH440 cone crusher will then feed the crushed material for sizing to a QA450 four-way-split screen.
The all-encompassing nature of Sandvik's product offering now allows customers to process materials from the very beginning of its usable life to the very end – and beyond! Dimensional stone can be drilled then quarried, tunnels excavated, rock extracted, then materials crushed and sized to produce the highest quality of aggregates. And when its life cycle is finished the Sandvik range of demolition and recycling equipment will allow for the same materials to be re-used and recycled starting the process again so that the circle of use is complete.

It's not only the Sandvik product range that will be highlighted to customers at Hillhead. Sandvik's recent aftermarket developments will be given due emphasis, and present customers with opportunities to discuss their parts and service requirements at first hand. Potential customers look for a reliable partner who can not only supply the equipment they need, but who also understand the construction environment, and possess a global presence that can provide a high standard of support regardless of location.

With live demonstrations of some of the most important pieces of Sandvik equipment being held hourly directly in front of the main pavilion on the stand, Hillhead will certainly be a showcase event for Sandvik in 2012.

Sandvik will also provide visitors with the opportunity to win a scale model of the top of the range UJ440i tracked jaw crusher. The models are produced in limited numbers and are seen as highly collectable.