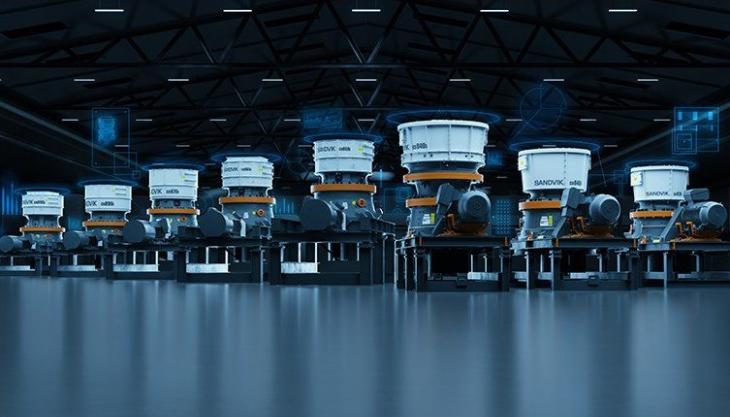 New CH830i, CH840i and CS840i models added to intelligent connected cone crusher range 
THE Sandvik 800i series of cone crushers has been improved and expanded to include three new high-performing models – the CH830i, CH840i and CS840i, each of which comes with Sandvik's new-generation Automation and Connectivity System (ACS) as standard.
Connected to the My Sandvik portal, which can be accessed using a smartphone, tablet or computer, Sandvik 800i crushers allow managers and operators to access and manage all the vital information they need to make decisions based on facts and to see areas for improvement directly.
The ACS system continuously monitors and optimizes crusher performance as well as controlling the entire lubrication system, increasing uptime and reliability.
According to Sandvik, the 800i series has also been toughened and improved to offer greater reliability, higher availability and a lower risk of critical failure, with bolted rather than welded top and bottom shell liners making them 90% quicker to replace.
Moreover, the overpressure system keeps out dust and the standard off-line filter keeps oil cleaner, extending oil life by up to five times, while more power output from less energy and more uptime through intelligent crushing make the 800i series a safer, more sustainable choice, say Sandvik.
Models in the Sandvik 800i series can be purchased as a completely new crusher or as a Sandvik REBORN solution, replacing an existing crusher and reutilizing existing auxiliaries and infrastructure. This plug-and-play installation minimizes disruption and maximizes productivity, whilst offering up to 40% cost savings compared with a complete crusher system.
In addition, Sandvik 365 service agreements are designed to provide customers with safer operations, lower operating costs and longer service life, thereby unlocking the full potential of their crushing plant 365 days a year and increasing productivity by up to 10%.
A spokesperson for Sandvik said: 'New digital technologies will transform the way mines and quarries work. My Sandvik is the first major step in gaining insights into productivity and predictive maintenance that will drive our industry forward. It's great to offer our customers a service that will truly make a difference to their profitability.'