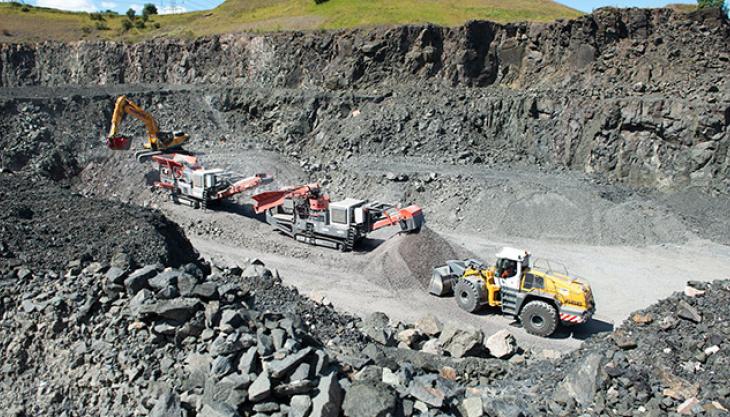 Cumbria-based firm now operating in the quarrying sector with help of Sandvik mobile crushers
THOMPSON Plant Hire have recently expanded their business into the quarrying sector and playing a major role in this development has been tracked cone and jaw crushers supplied by Sandvik Construction.
The company is currently producing a sub-base material for a leading national aggregates supplier at Highcraig Quarry in Glagow. To ensure they can crush and shape Whinstone, the material being quarried on site, Thompsons have invested in a Sandvik QH331 hydrocone crusher to work alongside a QJ341 jaw crusher.
The QJ341 has been designed to be equally productive in both hard rock and recycling applications and is, therefore, according to Sandvik the ultimate 'all-round workhorse' machine providing maximum efficiency and productivity while minimizing cost of ownership.
The machine features a 200 x 750mm C12 single toggle jaw crusher on a heavy duty mainframe, making it able to withstand arduous working conditions. The QJ341 also features reversible crushing action to relieve blockages and help tackle difficult and challenging applications
The QH331 is a compact, reliable machine designed to meet high quality product demands through Sandvik's CH430 hydrocone crusher but on a tracked chassis. It offers a choice of six different crushing chambers and a variety of bush settings.
Possessing sturdy construction, its power management, coupled with the CH430 cone crusher, makes the QH331 ideal for aggregate production wherever it is needed. A key attribute of the QH331 is that the CH430 unit has a deeper crushing chamber than other comparable machines. The material is, therefore, in the chamber longer, optimizing reduction and providing a superior product shape.
The CH430 is also equipped with a hydroset closed side setting (CSS) regulation system that allows the operator to adjust the CSS while crushing via the main control panel.
For Thompsons, QJ341 jaw crusher has been set to 100mm to feed the QH331 cone crusher; producing 0-40mm material at a rate of 130 tonnes/h. This level of productivity has delighted Kevin Thompson, owner and founder of Thompsons Plant Hire.
'We needed mobile crushers that would be sturdy, reliable and highly productive,' he explained. 'The Sandvik machines deliver on all three. The QJ341 has a good maximum feed size which, when combined with the cone, produces a very accurate product. The flexibility of the machines has been very attractive to us, especially their ability to be used on many different applications so it makes a great investment for us. Our operators have also found them easy to use and user-friendly.'
Mr Thompson has been impressed with the aftermarket care from Sandvik. 'Our dealings with the service team have been excellent,' he said. 'We can't fault them on their knowledge of the machines and they are able to identify potential issues before they arise. Overall, we're very pleased with the whole experience with Sandvik and impressed by their range of machinery that we're possibly looking to upgrade our Extec E7 to a QE341 scalper.'