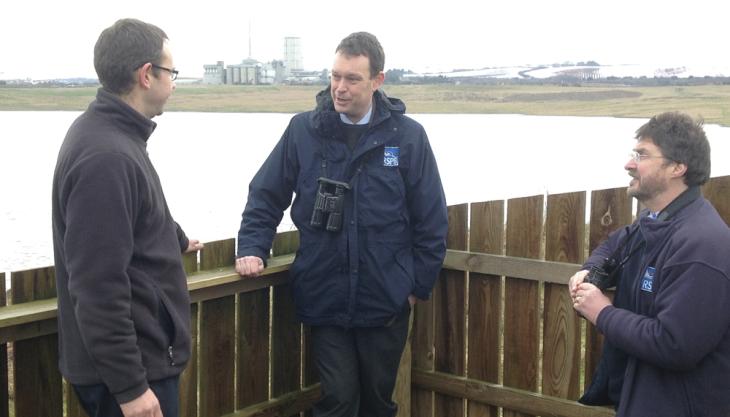 New agreement set to boost biodiversity and eco-tourism in Dunbar area
A LANDMARK agreement on the future management of a quarry near Dunbar is set to turn the site into one of East Lothian's most important wildlife areas. 
A new memorandum of understanding, signed by Lafarge Tarmac's Dunbar Cement Works and RSPB Scotland, agrees on how the north-west quarry will be developed over the coming years to support future safe public access and attract a wide variety of wildlife.
Nigel Blair, works manager at the Dunbar site (left in picture), is delighted that RSPB Scotland is advising Lafarge Tarmac on the future management of the site – now known as White Sands Quarry among local birdwatchers – and is looking forward to it becoming a valuable asset to the local area in the future. 
'The agreement contains a vision of restoring the quarry for the long-term benefit of biodiversity and the local and broader communities,' he said. 'RSPB Scotland believes that the area can make a significant contribution to local wildlife, while also benefitting local people and the local economy, and we wholeheartedly support that.'
Duncan Orr-Ewing, head of species and land management with RSPB Scotland (pictured centre), confirmed that RSPB reserves had shown a positive impact on local economies; in 2009 they attracted £66 million into the surrounding communities and supported over 1,800 full-time local jobs. 
He said: 'The greatest economic impacts delivered by conservation come from tourism spending. Employment supported by tourism to RSPB reserves has trebled since 2002. The prospects for Dunbar and the surrounding area, given the potential of this site, are very exciting.'
Mike Fraser, conservation officer for Lothian and Borders with RSPB Scotland (pictured far right), added that access for the local population was also a priority. The restoration of the quarry had already provided a rich variety of new and valuable habitats for wildlife, particularly birds, and it was important that communities in the area had every opportunity to enjoy these.
'The open water is especially favoured by wildfowl, with many species of ducks, geese and swans recorded,' said Mr Fraser. 'The wildfowl have included Gadwall and Pochard, both of which are scarce in East Lothian. Flocks of more than 200 Lapwing have roosted and fed at the water's edge. One of the most unusual species recorded so far is the Avocet, with two of these striking wading birds making a brief visit last spring.'