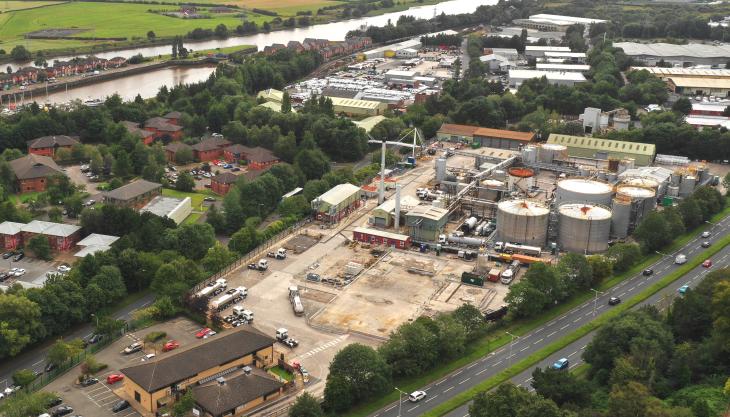 Total UK Ltd – Bitumen Division receives top accolade for outstanding health and safety performance

TOTAL UK Ltd – Bitumen Division, based in Preston, Lancashire, has achieved recognition from The Royal Society for the Prevention of Accidents (RoSPA) for its outstanding health and safety performance.
Total UK Ltd – Bitumen Division has received a RoSPA Gold Health and Safety Award for working hard to ensure its staff, contractors and all visitors to its site get home safely at the end of every working day.
Organizations that receive a RoSPA Award are recognized as being world leaders in health and safety practice. Awards are based on a company's individual performance assessed against the judging criteria and companies must provide evidence of a good health and safety management system.
The team at Total UK Ltd – Bitumen Division submitted details of the initiatives it has implemented and processes it follows to ensure a high standard of health and safety at work. These include its process for linking safety major event reporting with its emergency response procedure and a live test of the emergency response procedure with Lancashire Fire & Rescue.
It also highlighted the 'Golden Rules for Health and Safety' that are issued to all staff and visitors, and the 'Stop Card' initiative which gives authority to anyone on site, regardless of their role, to stop any practice that they consider to be potentially dangerous.
The team also delivers health and safety partnering initiatives through collaboration with customers and the hosting of safety awareness events.
Further evidence supplied included Total UK Ltd – Bitumen Division being a finalist in the Safety and Health Excellence (SHE) awards for Best Campaign of the Year for a health and safety video it produced, which focused on mental health impact and awareness following any potential on-site accident.
Gemma Tinnion, bitumen sales support co-ordinator and health and safety committee chair, said: 'Winning a RoSPA Gold Award is a great achievement and one which we are very proud of.
'We are committed to developing and maintaining a positive health and safety culture in which statutory requirements are viewed as a minimum standard and leading performance is our goal; this makes health and safety at Total UK Ltd – Bitumen Division an absolute priority. We are delighted that the efforts of employees and contractors have been recognized by RoSPA.
Julia Small, RoSPA's head of qualifications, awards and events, added: 'The RoSPA Awards scheme is the longest-running of its kind in the UK, but it receives entries from organizations around the world, making it one of the most sought-after global accolades in health and safety.
'RoSPA wants every employee, wherever they are, to work safe in the knowledge that they will be going home unharmed and healthy at the end of every day. The RoSPA Award winners are vital to help achieve this goal, as by entering they are driving up standards and setting new benchmarks for organizations everywhere.'
The RoSPA awards are non-competitive and mark achievement at Merit, Bronze, Silver and Gold levels. Gold medals, President's awards, Orders of Distinction and the Patron's Award are presented to organizations sustaining the high standards of the gold level over consecutive years.
The Total UK Ltd – Bitumen Division team will be presented with their award during a ceremony in Birmingham on a date yet to be confirmed.