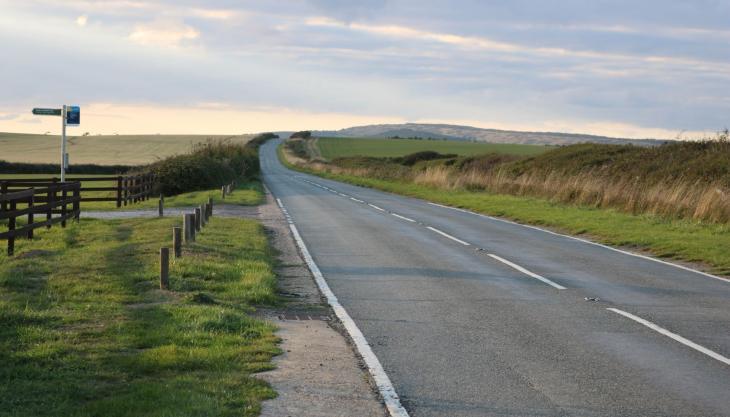 Upgrade work commences on final seven miles of the Military Road on the Isle of Wight
A SEVEN-mile stretch of one of the UK's most iconic and photographed roads is to be improved in a major scheme by Ringway Island Roads.

The Military Road between Chale and Brook on the Isle of Wight will be improved in a project expected to last around four weeks, during which sections of the highway will be strengthened as well as resurfaced.

The project will be the longest consecutive length of road upgraded by Ringway Island Roads in a single scheme as part of the Highways PFI contract. It will mean that the entire Military Road will have been upgraded by Ringway Island Roads since mobilization of the partnership in 2013.

The work, which started on 1 October, has been scheduled for outside of the main holiday season but before the onset of winter when cold and wet conditions, on what is a particularly exposed section of road, could otherwise extend the length of the works causing more disruption for businesses and residents.
Work will be undertaken around the clock to shorten the overall duration of the project in a further step to minimize disruption.

As part of a wider commitment to sustainable management of the highway network, Ringway Island Roads have been liaising with the National Trust, Area of Outstanding Natural Beauty officers and Natural England to ensure that the works are managed as sensitively as possible on this environmentally sensitive part of the island.

Steve Ashman, Ringway Island Roads' service director, said: 'The Military Road is the island's most photographed and well-known stretch of highway, but we also know that it is home to many businesses, landowners and residents.

'Our aim is to bring about a much-needed upgrade to this important route with the least possible impact on those who use it. The techniques we are using and the management of this project have been developed to minimize disruption and maximize the life of this important road.'

More than 14,200 tonnes of Recofoam will be used across the seven-mile stretch of road. This will offer a sustainable solution by utilizing a cold production process – producing fewer emissions using energy-saving technology and up to 85% recycled materials. It is also specifically designed to withstand heavy traffic.

The Military Road was built in the 1860s as part of the defence of the Island and allowed troops to patrol the south-west coastline from their barracks in Freshwater.

It was for many years closed to the public with a series of gates restricting access, but after being purchased from the War Office and the Seely Estate, the road was reconstructed and public access established in the 1930s.