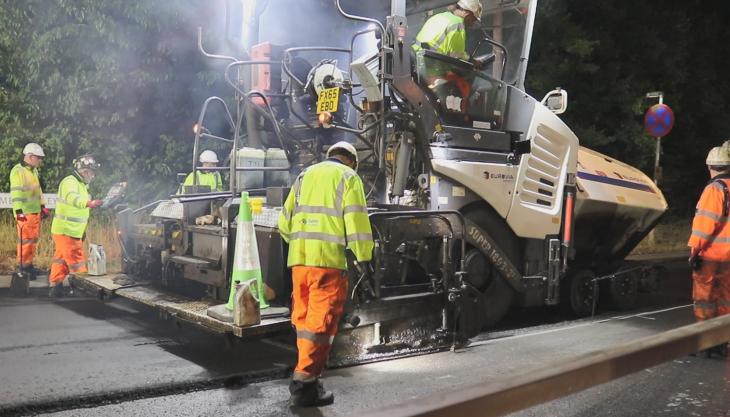 Ringway Jacobs and Essex County Council trial new graphene-enhanced surfacing material

A NEW trial which could revolutionize the way public highways are resurfaced is under way in Essex, with those behind the project hoping the addition of a new strengthening compound to traditional surfacing material could double the lifespan of roads, greatly reducing future maintenance and associated traffic delays, as well as halving the carbon footprint associated with such work.
The trial is being undertaken by Ringway Jacobs and Essex County Council on a section of road in Chelmsford. Ringway Jacobs supply highway services to Essex and have brought in the international expertise of their shareholding companies, Eurovia UK in particular, their specialist asset-management consultancy Jean Lefebvre UK (JLUK), and partners, to undertake the trial.
Key to the innovation is a technology called Gipave, developed by Italian company Iterchimica. The product is the result of a six-year research programme called Ecopave, in collaboration with Directa Plus – producers and suppliers of Graphene Plus, G. Eco, and the University of Milan – Bicocca.
Gipave involves adding an advanced product to a traditional surfacing material, in this case, for the first time in UK, added to a hot-rolled asphalt (HRA) and applied to a good-quality substrate or newly applied binder course.  JLUK have been fully testing and developing the materials used in the UK trial, which have been produced locally through one of Eurovia's East London asphalt manufacturing facilities.
Gipave contains graphene, which is 200 times stronger than steel yet extremely flexible, making the asphalt is far less susceptible to hardening and cracking in cold temperatures and softening in warm temperatures. It also increases the elasticity and strength to reduce the wear, particularly under high loading.
Gipave further reduces environmental impacts and carbon emissions (by up to 70%) as it contains a specific type of selected hard plastic which is usually considered non-reusable and thereby avoids less-sustainable disposal methods (landfill etc).
In the Essex trial, conventional HRA surfacing has been laid as a control section adjacent to the graphene-enhanced area, so the performance of each can be monitored under identical traffic and climatic conditions.
Whilst recognizing that warm- and cold-mix surfacing products offer immediate carbon reduction benefits to clients, some highway networks and highway authorities still prefer 'hot' products for their 'whole-life' benefits. Laboratory tests have shown that, compared with standard HRA, the Gipave-enhanced material shows an increased stiffness of more than 200%, reflected in a 655% improvement in deformation resistance. At the same time, the material also shows an improved resistance to cracking of 109% compared with conventional material.
Eurovia UK managing director Paul Goosey said: 'We are continuously striving to improve the sustainability of our highway products and services. Working with JULK and Iterchimica to bring Gipave to the UK, we can offer clients a surfacing solution which, in the right location and network, will reduce environmental 'whole-life' impact and improve the resilience of the network.'
Ringway Jacobs managing director Phil Horton added: 'As a business, we believe innovation is key to offering the highest quality and best value services to our clients. Our company structure enables us to call on the expertise of industry leaders across the world and we are delighted to be bringing that know-how to Essex in a project that could save time and money, while at the same time reducing the carbon footprint due to the extended life of the pavement.'
Cllr Lee Scott, Essex County Council Cabinet Member for Highways Maintenance and Sustainable Transport, commented: 'This is potentially a game changer in road and footway surfacing, as increasing the expected life of the surface could drastically reduce maintenance costs and halve the carbon footprint typically associated with such surfacing. We look forward to seeing the results of trial and what potential benefits the graphene solution might bring to the county – and indeed the rest of the UK.'