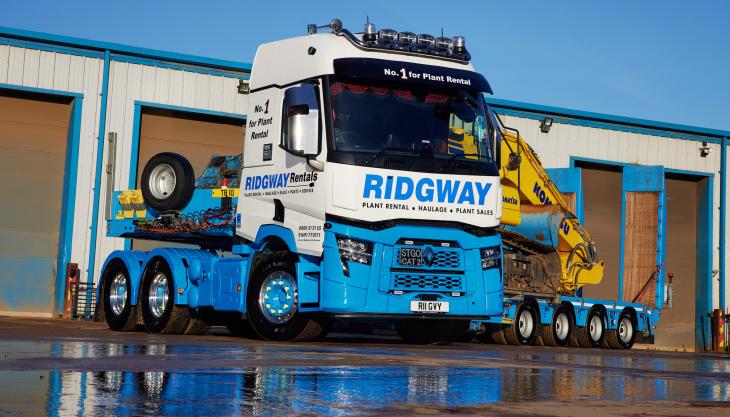 Nationwide hire company adds two head-turning 70-tonne T520 6x2 tag-axle tractor units to fleet
NATIONWIDE plant hire company Ridgway Rentals Ltd have taken delivery of two new 70-tonne Renault Trucks T520 6x2 tag-axle tractors, with reliability, dealer location, and driver appeal cited as the key reasons for the selection of the new vehicles.
Supplied by Renault Truck Commercials, the Renault Trucks T520s in Ridgway Rentals' striking blue and white livery have been added as replacement vehicles to the 10-strong predominantly Renault Trucks fleet. The T520s with sleeper cab move heavy plant machinery, including excavators, bulldozers and dumptrucks, across the UK.
Explaining why Ridgway Rentals opted for the Renault Trucks, director Rob Jones said: 'With an increased demand for our services, we are extremely busy. The new vehicles have been brought in to replace older stock and to ensure that we have the very best fleet to meet our customers' needs. We also have our local Renault Trucks dealer, Perrys of Gobowen, on our doorstep, so repairs and maintenance are stress-free.'
The T520s are fitted with the ATO 2612F gearbox, reinforced for heavy-duty use (XTREM), with automatic clutch. Optional extras specified include Alcoa brushed matt aluminium wheels, four-point cab air suspension with ride-height control system, roof-mounted twin air horns, comfort air-conditioning, fridge, one-touch electric windows, leather steering wheel, and ROADPAD+.
'We find Renault Trucks have a well-deserved reputation for reliability and our drivers are big fans. The trucks are out on the road four nights a week and they say driving the T520s is an absolute pleasure; the cab is more comfortable, and the bed is better,' said Mr Jones.
'The trucks are also becoming local celebrities – winning 'Best Shropshire Truck' at The Whitchurch Truck Show – and are regularly photographed on the move and posted by truck spotters on social media. Seeing the vehicles looking so impressive and being celebrated by others is the icing on the cake.'