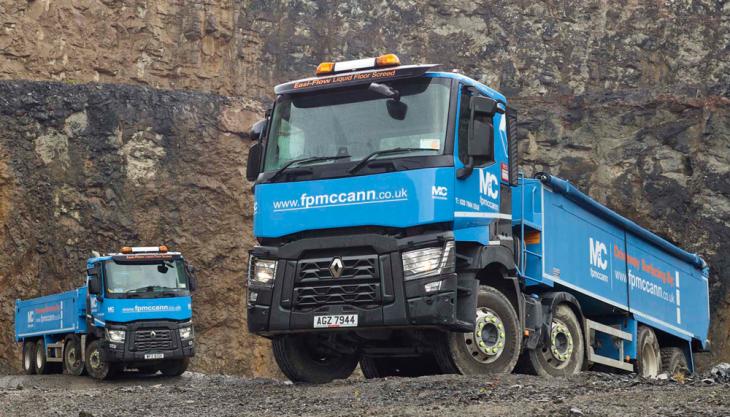 Northern Ireland precast concrete supplier adds two new C430 8x4 trucks to its vehicle fleet
FOLLOWING a successful run of Renault trucks across their fleet, FP McCann, one of the UK's leading producers, suppliers and distributors of precast concrete solutions, have taken delivery of two further 32-tonne Renault Range C trucks.
Supplied by approved dealers Diamond Trucks, the first Range C430 8x4 unit has been fitted with a tar specification tipping body by McErlean Trailers, while the second truck features a McErlean Trailers demount system and tipping body, and a mixer drum by Hymix.
According to Chris McCloy, regional quarry and transport manager for FP McCann, the Range C trucks' ruggedness, driver comfort, excellent payload, pulling power and low fuel consumption were key factors in selecting the new vehicles.
'We've been running Kerax since 2006, which have served us well in terms of maintenance and fuel consumption, and a couple of Range Cs for a year,' he commented. 'The obstacle clearance capacity is impressive which helps make the Range C ideal for our quarry and construction site applications. The drivers are extremely happy with the handling and performance too.
'The C430 truck has plenty of power for every-day work, including hauling blacktop and muck shifting, as well as the capacity to tow our full range of trailers and plant, which makes them a great all-round addition to our fleet. Fuel efficiency is also crucial and the new Range C is performing consistently well.'
Mr McCloy also pointed out that the aftersales service from Renault Trucks played an important role in choosing which trucks to buy. He continued: 'Our overall relationship with Renault Trucks has been always been good and it is something that we will continue to build on with Diamond Trucks, who have provided us with an excellent package that included a trade-in deal and four-year warranty. The fact that we have an additional Range C on order speaks volumes about the positive relationship between FP McCann and Renault Trucks.'
Commenting on the deal, Ian Latimer of Diamond Trucks said: 'FP McCann and Renault Trucks have been working in partnership for many years, so I am delighted that they have once again turned to us for their new vehicle requirements. The Range C is a fantastic workhorse and provides excellent drivability and large ground clearance for covering all terrain. It's great to see that it is working so well in FP McCann's busy operation.'