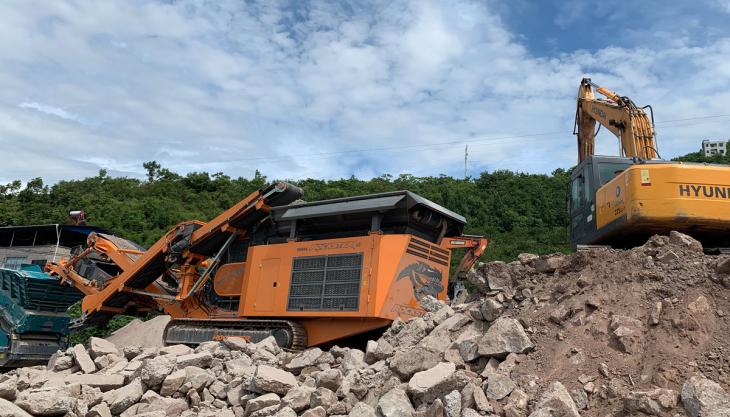 New R1100DS impact crusher delivers productivity and environmental benefits for Kebao Construction Machinery Leasing 
IN the past few months, a Rockster R1100DS impact crusher has proven its worth to aggregate contractors Kebao Construction Machinery Leasing by maximizing the value of construction and demolition (C&D) waste and helping the company to produce 40,000 tonnes of saleable recycled products per month.  
Based in the megacity of Chongqing, in China, Kebao have grown steadily in the last 10 years with 20 employees and a wide-ranging machinery fleet that includes a jaw crusher and scalping screen. 
The recycling contractor takes a proactive approach to continually update its aggregate processing/mobile plant fleet whilst catering for the needs of its customers. Strong, reliable performance, combined with ease of transportation and quick set-up times, were key contributing factors in purchasing the Rockster R1100DS impact crusher. 
Operating in the Daba Shan, Wu Shan and Dalou Shan mountain ranges, these benefits are essential in applications such as the processing of natural stone and the recycling of construction waste and demolition rubble. 
Ran Maohe, chief executive officer of Kebao, commented: 'Thanks to the compactness of our new R1100DS impact crusher, we are able to transport the machine, including the screening system, over our winding mountain roads using an ordinary flatbed truck. The crusher set-up time is extremely short due to the saved settings. Our machine operators are also able to operate the crusher very quickly, thanks to the intuitive interface.'
Mr Maohe added that reliable operation, superior grain quality and machine efficiency are amongst the most important advantages of operating the hydrostatically driven Rockster R1100DS.
He said: 'My operators are familiar with this kind of drive system from our excavators and wheel loaders…the pressure of the hydrostat always adapts to the power requirement of the crusher. This means that there are no blockages due to a lack of drive force and the crushing performance is consistently high.'
Due to the extremely hilly terrain and mountainous environment in which the R1100DS is operating in; the impact crusher is mainly processing hard granite, basalt and sandstone from a number of nearby quarries.  
'The R1100DS crushes granite from a diameter of up to 1,000mm to 0–32mm final product, which can be further screened to –5mm, 5–10mm and 10–32mm,' continued Mr Maohe. 'Our customers are extremely satisfied with the production and excellent quality of these three final grain sizes.'
Looking ahead, one of Kebao's key goals is to provide a local source of clean, high-quality recycled products all year round for the growing construction market in the municipality of Chongqing. 
'In recent years, China has generated more than 1.5 billion tons of construction and demolition waste annually, with a recycling rate still below 5%,' said Mr Maohe. 'By recycling with a crusher like our R1100DS, most of this construction debris could be reused and the positive effect on the environment and economy would be enormous.'