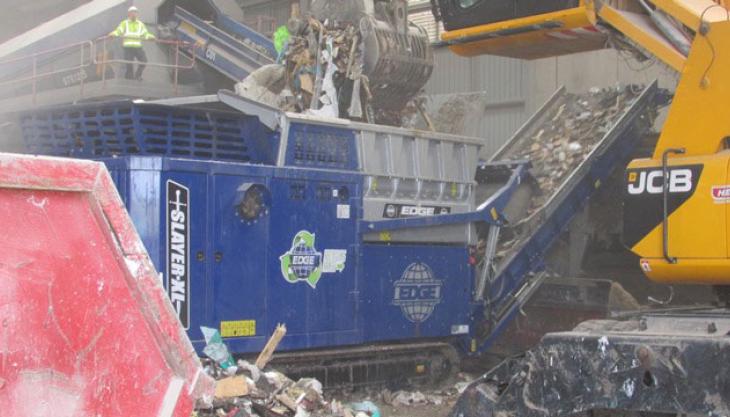 Six years on and Hamilton Waste & Recycling Ltd are still gaining the benefits of their EDGE Slayer shredder
LOW maintenance and operational costs, uniform piece sizing, high percentage uptime, ease of maintenance and service second to none have led to Hamilton Waste & Recycling still singing the praises of the EDGE Slayer machine six years later.
As one of Scotland's largest independent waste-management operators, Hamilton operate from three transfer and recycling stations, and in 2010 the family run business took the decision to purchase an EDGE Slayer slow-speed, twin-shaft shredder. With the use of the Slayer unit added to its waste-processing steam, the recycling firm has been able to reduce the size of incoming skip waste to 400mm. The shredded material is then passed into a screen and on to a four-bay picking station.  
Hamilton have continued to invest heavily in new materials-handling and separation technologies with, for example, the installation of a new £2 million bespoke separation plant in 2014 on the same site. The recycling facility incorporates mechanical separation in the form of flip flow screens, a trommel, air separation, water separation and manual upstream picking. 
At the front-end of the recycling plant, Hamilton have chosen to stay loyal to their trusted and proven EDGE Slayer slow-speed shredder. More than 100,000 tonnes of municipal skip waste passes through the company's sites each year, all of which are fed through the Slayer machine. 
The Slayer¹s capacity to consistently produce an end-product of no greater than 400mm is vital to Hamilton's ability to process material cost effectively. It allows the pickers to identify and select commodities, while air and water separation systems work efficiently to ensure optimum throughput. 
Key design features of the EDGE Slayer have made it a firm favourite of Hamilton¹s service engineers and operators with the tramp metal detection system being identified as real cost-saving feature, with 'non-shreddable' fragments being quickly removed. 
The operational and running costs for the machine are low; the average fuel consumption, for example, is 20 litres/h which has partly reduced the processing cost-per-tonne for Hamilton.  
EDGE Innovate offer two different sizes of slow-speed waste shredders in a number of different formats ranging from hooklift to track. Operators can choose from direct electric to diesel/hydraulic units.