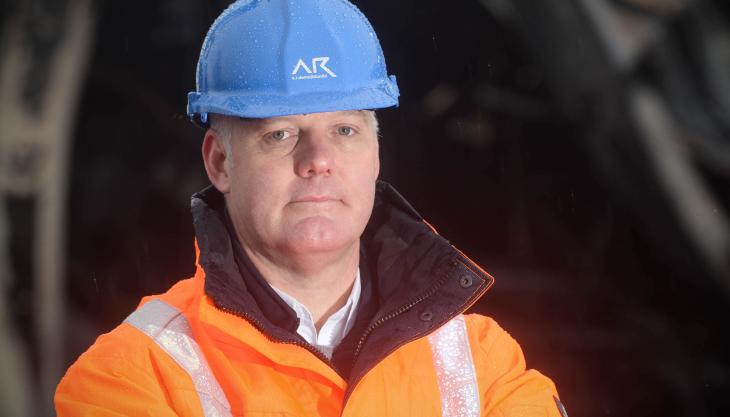 Best ever start to a year for East Midlands demolition firm as turnover jumps by 54%
IT has been the best ever start to a year for East Midlands demolition firm AR Demolition, with record turnover and profits in the first half of 2018.
In the six-month period to July the company saw turnover rise by 54%, compared with the same period in 2017, with year-on-year gross profit increasing by 18%.
The figures follow significant investment in new plant and machinery, including £1.5 million spent on three new cutting-edge, high-reach Kiesel machines last year after previous investment of £1 million in 2016.
Following a period of restructuring and stabilization, AR Demolition's managing director, Richard Dolman (pictured), said he was happy with the direction in which the company, based in Carlton, near Nuneaton, is now moving.
'We didn't perform as well as I'd have liked in 2017,' he said, 'so we've worked hard to improve all areas of the business. I'm delighted with how quickly we've noticed such a dramatic improvement in financial performance.
'Earlier this year we appointed a new board, including a financial director and a commercial director, and we're currently looking for an operations director to join the team.
'We're introducing some new processes and procedures across all our departments, including some cutting-edge improvements in communications and reporting, as well as strong governance and controls.
'It's all had a dramatic impact on our bottom line. We have seen record turnover and profit for the first half of this year, and in turn we have seen strong growth in our forward order book, with much of the custom being repeat business.'
In May, AR Demolition were named in the prestigious '1000 Companies To Inspire Britain' report, released annually by the London Stock Exchange Group (LSEG).
The report celebrates the UK's fastest-growing and most dynamic small and medium-sized enterprises (SMEs). To qualify, companies had to have revenue between £6 million and £250 million, have been operating for at least three years and be among the fastest-growing in their industry sector.
Mr Dolman said that he and the leadership team at AR Demolition were keen to develop the company into a new type of demolition contractor – one where quality, safety and innovation, particularly in terms of sustainability and recruitment, were placed at the forefront.
He said: 'This improved financial performance opens up many opportunities for growth in terms of diversification, new customers and the continued implementation of innovative techniques.
'By helping to advise on and implement better methods of recycling, our industry can make dramatic improvements in the construction sector's reduction of its carbon footprint.
'We're pioneering the first-ever Master's degree in demolition at the University of Wolverhampton and we're working closely with local schools and colleges to offer work experience and placements so we can find and retain the best talent out there.
'And by investing in the Kiesel machines, which provides our clients with the benefits of massive operational efficiencies, as well as helping with carbon reduction, we are implementing innovative technology which showcases the future of AR Demolition and the industry as a whole.'