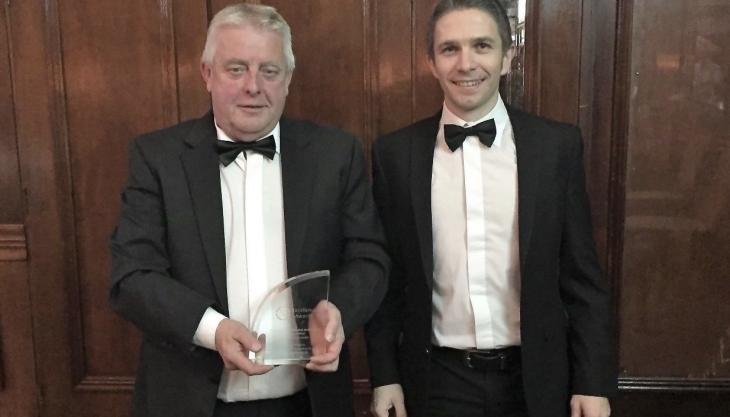 Health and safety management scheme scoops Best Personal Development Project Award
QUINN Building Products scooped an award at the IQ Excellence Awards in Belfast last week for their innovative Quinn Safety Hub. The award was in the Standards & Professionalism category, where the Hub was recognized as the Best Personal Development Project in the Northern Ireland Institute of Quarrying Awards.
The IQ Excellence Awards celebrate the success of exceptional individuals, teams and projects around the UK, and recognize the positive impact professionals make across the country. There are five UK regions: Scotland, Northern Ireland, Wales, North England and South England.
As a regional award winner, Quinn will now go forward to the national excellence awards to compete for the overall national title in 2020.
The Quinn Safety Hub, launched in 2018/19, is a state-of-the-art health and safety and environmental management system, which is aimed at ensuring a zero-harm environment. The Hub gives the organization cloud-based, centralized health and safety management across all divisions.
With integrated training and contractor management solutions, the Hub provides a holistic approach to health and safety management, with the data-mining capability to help continually drive process improvement across the company.
Since the introduction of the Safety Hub, Quinn have seen a marked improvement in health and safety statistics, and the company has received widespread recognition for the scheme, which is a major part of its Safer by Competence policy.
Commenting on the recent awards success, Quinn's health and safety manager, Gerry Clancy, said: 'The IQ Excellence Awards are recognized as a very prestigious celebration of excellence within the mineral products sector across the UK, with an esteemed judging panel, so we're delighted to win the Best Personal Development Project Award.
'The response from our own industry and beyond to the Quinn Safety Hub has been fantastic. We're very proud of the development here at Quinn and we've been working with other companies and industry bodies to share our experience and learnings, which is an essential part of improving health and safety across this sector as a whole.'