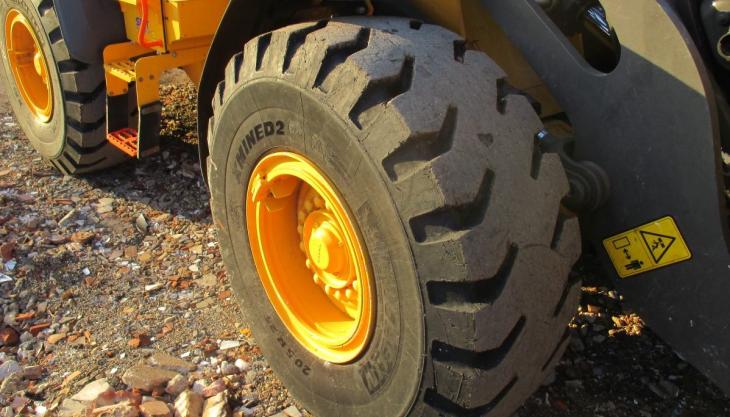 Ultra-durable X Mine D2 Pro tyres help reduce downtime and improve wheel loader performance
NORFOLK-based PSH Environmental say they have managed to eliminate virtually all punctures across their fleet of Volvo wheel loaders by utilizing Michelin's ultra-durable X Mine D2 Pro tyres.
The skip-hire, recycling and aggregates business specifies all new machines with the Michelin fitments, having found them to be more durable than any other rubber tyre on the market, while offering a much-improved level of comfort and performance over a solid waste tyre.
Nigel Parker, who runs PSH Environmental alongside his brother Martyn, said: 'We fit the Michelin product because it is by far the best option for our wheel loaders. The Volvos are fantastic machines, working in a very tough environment, and we use a premium tyre to ensure we get the best out of them and avoid costly downtime.
'Unless you are very, very careless, you really cannot puncture these tyres. The only other option for us would be to run solid tyres, but we have avoided that as the ride quality is so poor and, working on concrete, you can end up damaging the machine.'
PSH Environmental currently run three Volvo loading shovels – one older L60H and two new L90H machines, all supplied by SMT GB. The business uses the loaders to move materials on to walking floor trailers, shifting waste into shredders, and loading plant machinery at its depot in Norwich.
'We have had the older L60H for more than four years now, and it has the same set of tyres on as when we got it. It's done more than 7,500 hours,' said Mr Parker. 'With the two new L90s, I think they'll last even longer – they're fantastic machines. We can put about 26 tonnes of black bag waste on a walking floor trailer in around eight minutes.'
Designed specifically for operation in demanding environments, the X Mine D2 Pro is built with optimized rubber compounds to help withstand hard conditions and slow down tyre wear. The range features a reinforced, resilient casing and an innovative, robust tread design to improve resistance to cuts and punctures.
Michelin's NRF Technology – two extra plies added to the tyre construction, which contain crossed cords encased in rubber for greater resistance and toughness – helps to reduce downtime and increase load capacity.
'We're running a busy operation and we can't afford to have machines that are out of action with a damaged tyre,' added Mr Parker. 'You know you're not going to get that from Michelin. The tread pattern is bang on for the work we're doing too.
'We have tried other tyres in the past, but they are like chalk and cheese really. They just don't stand up to what the Michelins can offer.'