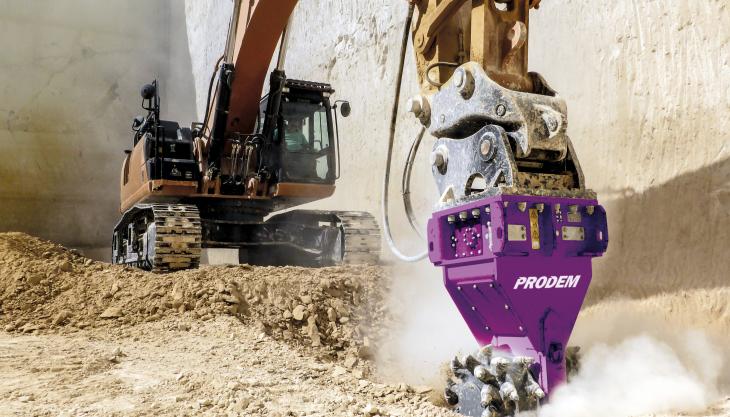 New rock wheel designed for maximum precision and productivity in a wide range of applications
PRODEM have introduced their new PRW Rock Wheel, which is said to be ideal for trenching, rock and concrete wall profiling, tunnelling, quarrying and demolition, as well as dredging, finishing operations and even underwater works.
The device is also particularly well suited to working in confined spaces or areas that are sensitive to noise and vibration, but regardless of where it is used, PRODEM say the dustproof PRW Rock Wheel is designed to deliver maximum precision and productivity.
Maximum performance is ensured by the attachment's patented, integrated high-displacement hydraulic piston motor, whilst precision is ensured by dual hose positioning; 90-degree manual rotation is available as standard, with hydraulic rotation available as an option.
Moreover, the design of the PRODEM PRW Rock Wheel is said to make it virtually maintenance free. The frame of the PRW has been designed to discharge material quickly and efficiently to maintain productivity, whilst mechanical seals and feed-line filters prevent dust and impurities from entering the motor and causing a breakdown.
As with all PRODEM attachments, wear parts on the PRW Rock Wheel – ie the picks – are fully replaceable and various drum and teeth options are available to suit most applications. All PRODEM attachments and wear parts are imported into the UK exclusively by BPH Attachments.