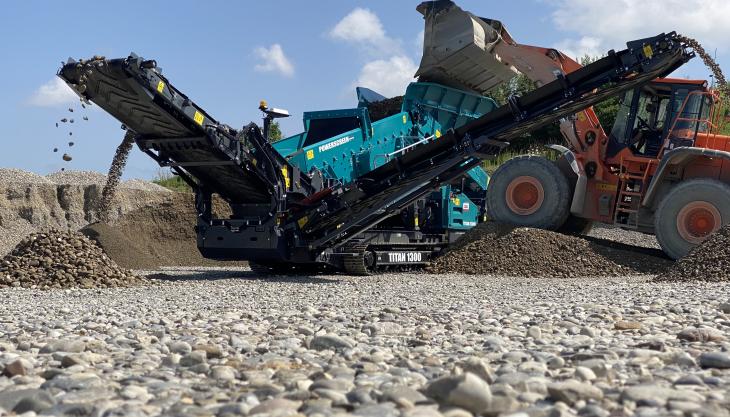 Trio of secondary scalping screens provide cost-effective solution in high-volume, smaller-sized applications
POWERSCREEN have launched a new range of secondary scalping screens that are said to provide a cost-effective solution in high-volume, smaller-sized or recycling applications.
The Titan range, which comprises three models – the Titan 600, Titan 1300, and Titan 2300 – is a simplification of Powerscreen's high-performing Warrior range, using key features that customers like about the Warrior machines and tailoring them to a different section of the market at an attractive price point.
Sean Loughran, business line director at Powerscreen, explained: 'As we continue to review the global market, we are seeing a split in the applications in which our Warrior range is being used.
'Whilst some are screening large-sized materials, others are being used as secondary scalpers, such as after a crusher, or in the recycling market – screening topsoil, C&D waste and biomass materials.
'The Titan range has been specifically designed with the customer, for the customer, as a more cost-effective machine to cater for those secondary/recycling screening applications. The machines have both a range of features and unrivalled performance that will increase the bottom line of their owners.'
Designed to pack a punch whilst having a compact footprint for ease of transport, the Titan 1300 has an extra-large-capacity twin-drive feeder at the rear of the machine with a 1,100mm feed belt. The feeder comes with hydraulically folding extensions to allow for side loading of the machine, as well as impact bars under the belt in place of impact rollers, to withstand heavy loads, and a folding rear door, to allow for maximum versatility.
The highly aggressive screenbox has a total screening area of 10 sq m (13.1 sq yd) and a variable angle to suit different applications. The screenbox also has lift-up functionality at discharge end to ensure quick and efficient changes of mesh. A wide range of mesh types is available, along with other media including punch plate, 3D punch plate and finger screen.
The side conveyors have wide fines belts and a stockpiling height that is said to rival all comparable machine on the market. A single-lever set up results in very quick set-up times, and whilst the side conveyors can be factory configured as either standard or reversable, they can also be fully configured on site. Both conveyors can come out of the same side of the machine and each conveyor has its own independent speed control.
The Titan 1300's tail conveyor has a combination of rollers and impact slips for durability, and can be folded down to minimize transport length, allowing the machine to fit on the smallest European trailers.
The Titan 2300 is a completely new machine to Powerscreen in its concept and design, incorporating the largest belt feeder in any of the Powerscreen range at 1,500mm (60in), together with twin gearbox drive and a combination of impact bars and impact rollers for optimum power usage.
It also has the steepest hopper ever designed by Powerscreen, allowing easy emptying without bridging. The body of the hopper is manufactured from wear-resistant steel and has a rear folding door to take a crusher feed. A low-speed feeder is fitted as standard, with a medium-speed option available, which, while sacrificing some torque, can run up to 50% faster than standard with low-density material
As with all Powerscreen screens, the heart of the machine is within the screenbox itself. Neil Robinson, product and applications Manager at Powerscreen, explained: 'Using the expertise gained from the Warrior 2100, Chieftain 2200 and Chieftain 1700X, together with a mix of computer-based design and analysis and real-world testing, we have crafted a screenbox that will match and exceed any similar-sized single-shaft screen in the market.
Using a high-specification drive, the machine is able to take on a wide range of applications, from smaller direct feed, secondary feed after a crusher, to lightweight recycling.'
The machine also has an adjustable screen angle, with media options that include mesh (both woven and welded), punch plate, 3D punch plate, finger screens, and a finger and punch plate combination. Moreover, the Titan 2300 has full access walkways down both sides of the screenbox.
Hybrid Dual Power is also available on the Titan 2300, using standard diesel or connection to an external electricity supply once the machine has been set up.
The side conveyors consist of 1,050mm (42in) plain belts as standard, with chevron belts also available if required. With a generous stockpiling height, the plant is fully customizable both in the field and from the factory with conveyors that can be reversed, discharged on the same side, or converted to a two-way split.
To cater for the recycling market, there is an option for magnetic head drums on all three conveyors, to carry any metallic material away from the stockpile. The tail conveyor features a 1,600mm chevron belt, the widest in the Powerscreen range, with a combination of impact slips and rollers as standard, removing the need for full-length skirting and reducing the power draw of the conveyor.
Like the Titan 1300, the large tracks on the Titan 2300 ensure a stable working platform but have high tracking speed for maximum versatility on site.
Both the Titan 1300 and Titan 2300 have undergone rigorous testing to ensure they excel in various applications. For example, the Titan 1300 has worked on a sand and gravel application in Germany, whilst Powerscreen say the Titan 2300 has surpassed expectations in various quarries throughout Ireland as well as in a biomass application.