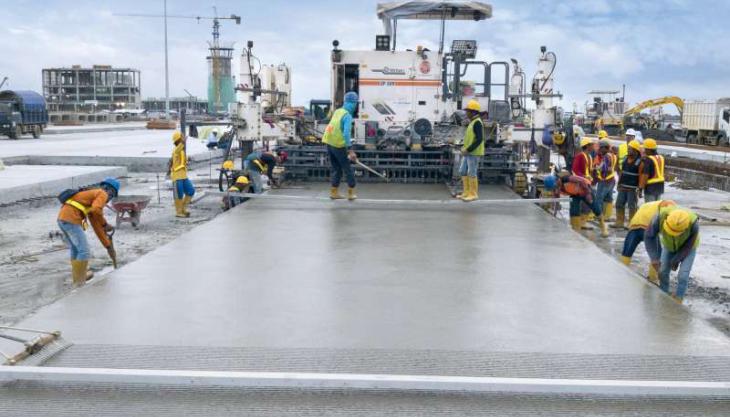 Wirtgen slipform pavers play crucial role in construction of Yogyakarta International Airport
ELEVEN Wirtgen slipform pavers are playing a key role in the construction of the new Yogyakarta International Airport (YIA) on the Indonesian island of Java.
Once the YIA project has been completed, up to 20 million passengers will be able take off and land there each year. With a current terminal area of 130,000 square metres, the new airport is set to replace Adisutjipto Airport, which is struggling with capacity issues.
The tight schedule was a particular challenge of the large-scale project in Yogyakarta. Reliable solutions from one source were required if the concrete slabs were to be completed on time, and this is what the Wirtgen Group sales and service company in Singapore promptly delivered.
Working in collaboration with the Indonesian Wirtgen Group dealer, PT Gaya Makmur Tractors, this included the large fleet of machines required as well as technical support and on-site application consulting.
A team of four SP 64 machines, six SP 500 machines, and one SP 84i machine formed the final line-up for the high-precision, cost-effective paving of the 3,250m long x 45m wide runway, plus its taxiways and the apron.
The 50cm thick concrete layer was paved across a width of 2m, 5m or 6m, depending on the area involved. During the process, dowels, which were prepositioned on reinforcement cages spaced at transverse intervals of 30cm, and a wire grid were integrated in the concrete as additional reinforcements.
'The quality of the concrete surfaces is excellent, and the machines also excelled across the board in terms of their performance,' said Andek Prabowo, chief executive officer of heavy equipment-based construction firm PT PP Presisi Tbk.
He added: 'The airport is set to grow by another 65,000 square metres during the second phase of construction and the landing runway will also be extended by another 350m. When the time comes, the fleet of Wirtgen slipform pavers will be ready for action.'