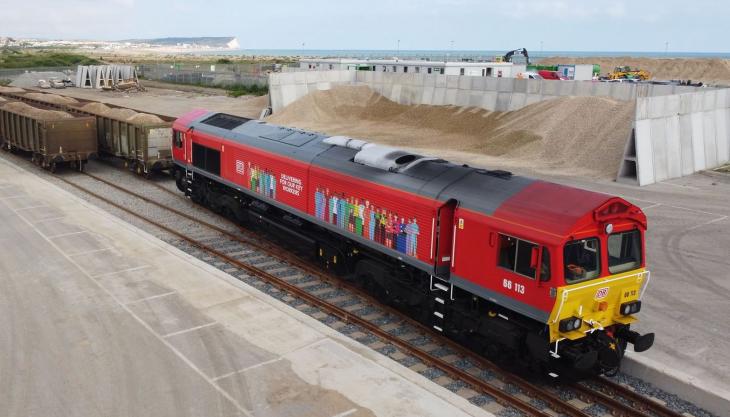 'Project of the Year' award for Newhaven Port scheme; new 10-year freight contract with DB Cargo
A BRETT Aggregates scheme to breathe new life into an industrial port on the South Coast has gained recognition from the rail freight industry.
In partnership with Network Rail, Brett have won the Rail Freight Group 'Project of the Year' award for their new multi-million-pound marine terminal at Newhaven Port, in East Sussex, which opened earlier this year.
Brett's development director, Oliver Brown, said: 'Network Rail and Brett Aggregates have worked together to re-establish Newhaven Port as a key part of the rail freight network, enabling essential materials to be transported by rail and securing the long-term freight use of the site.'
The project has rejuvenated redundant infrastructure to give the port a new lease of life after lying dormant for 30 years. In particular, the remodelling of old rail sidings has resulted in a railhead serving a new quayside processing facility for sea-dredged aggregates.
Sand and gravel brought in by ship is processed and then loaded on to trains for distribution to construction sites in Sussex, London and the South East.
Tom Longland, managing director of Brett Aggregates, said: 'This new marine aggregates terminal at Newhaven Port has access to more than 50 million tonnes of consented marine aggregate.
'It is the third rail-linked marine terminal operated by Brett around the coast of south-east England, the others being at Cliffe in Kent and Ipswich in Suffolk, where Brett have recently completed capacity enhancements.'
Meanwhile, with the continued growth in demand for marine aggregates to be delivered by rail, Brett have recently signed a new 10-year contract with rail freight operators DB Cargo for the transport of aggregates.
DB Cargo UK's head of sales, Roger Neary, said: 'This new contract further cements our relationship with Brett, which is founded on strong teamwork and collaboration. We're proud of our partnership…and look forward to delivering safe and reliable rail services for them for years to come.'
Mr Longland added: 'This new agreement with DB Cargo enables joint plans for further growth in rail freight from our marine aggregate terminals and the development of further urban rail terminals in London.'