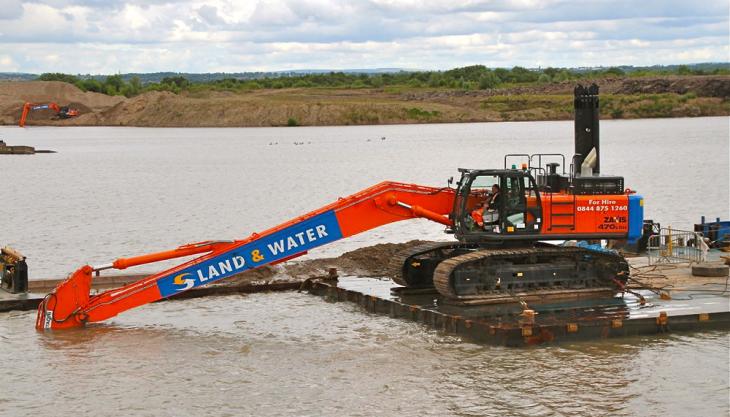 Land & Water invest in new long-reach machine for use at Breedon's Astley Moss Quarry
LAND & Water Plant Hire have recently invested in a new 20m long-reach excavator to ensure Breedon Group have a reliable, long-term production solution at their Astley Moss Quarry, near Manchester.
Some sand and gravel has already been excavated from the site by means of a long-reach excavator working from the bank, but this was limited to a depth of six meters. To successfully recover the remaining material, Breedon turned to Land & Water because of their specialist expertise in providing floating solutions. 
The specialist team at Land & Water is now retrieving the remaining material using a Hitachi ZX470 long-reach excavator on one of their own floating pontoons. The pontoon is designed to carry the machine safely yet can still be transported by road, which is essential for this scheme because of its inland location. 
The sand and gravel is excavated from the quarry bed and loaded on to one of Land & Water's split barges, which is moved around the lake by a 250hp river-class tug that has again been designed by the Land & Water team.
At the edge of the lake the barge drops around 100 tonnes of sand and gravel into the shallow water close to the bank. This process gives the material a valuable first 'wash' to remove much of the fine silt.
A Hitachi ZX350 long-reach excavator is then used to lift the washed material on to the bank where it is stockpiled for drainage. Around 24 hours later the stockpile is loaded directly into the sand and gravel plant for further washing and processing.
The efficient and cost-effective floating solution, which was successfully achieved thanks to Land & Water's specialist expertise and equipment, is allowing Breedon Aggregates to supply a constant flow of high-quality aggregate from what is a challenging site.
Quarry manager Jon Drabble said: 'The quality of Land & Water's plant, specialist equipment, knowledge and product support is why we work with them. They have proved themselves to have their clients' needs uppermost, ensuring we receive a top-class, reliable and productive service. They have been at the plant for 18 months and have ensured a smooth, delay-free operation.'
Richard Maclean, director of Land & Water Plant Hire, added: 'Our team like to solve a problem and are dedicated to producing the best-possible outcome for our clients, and if that means purchasing a new piece of machinery – so be it. A lot of our plant is customized or in some cases a new design for the unique work it needs to carry out.'